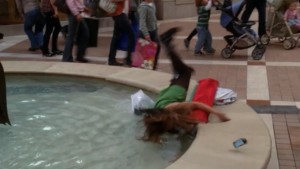 Today, I'd like to bring awareness to a dangerous condition that is rarely acknowledged: the klutzy female. The evidence is before us in numerous TV shows, films, and books, and we all know that those things are based on gospel truth.
While I, myself, am fairly adept at walking, drinking tea, and eating cream-filled pastries, as is every single woman I know, popular culture tells me otherwise. Thus must I and every single woman I know, be the anomaly.
You know those commercials for the two-sided pans that you can flip? For when you're cooking your eggs over easy and the act of flipping causes your body to violently and spastically jerk around sending egg throughout your kitchen? I used to mock it, but now I'm seriously considering in investing. I think it might be the first sign of Klutzius Femaleius.
I've decided that I need to be prepared. Pretty much everything I'm reading these days features one of these women so I must be living in a bubble and klutziness must be a real cause for concern. Like a zombie apocalypse.
I've been practising walking upright on flat surfaces, my arms overflowing with miscellaneous flotsam, lost in thought, in preparation for when this deadly affliction strikes, sending me into a fountain/down an escalator/splayed spread eagle on the sidewalk in front of a male boss or co-worker. It's also important to know how to fall, since I'll be doing it fairly often and I don't want to endure a pre-mature hip replacement. I suggest buying a padded mat sooner rather than later for training.
Please, my female friends, understand that statistics don't lie. And we don't need to feel shame. Anecdotal evidence has shown that men find this disorder enchanting and adorable.
So don't live in fear, ladies. Embrace the inner klutz that apparently lives inside everyone with a womb!
I'm Tellulah Darling, and this has been a public service announcement.
Subscribe for bonus content and insider scoops!
Tellulah's Old Darlings