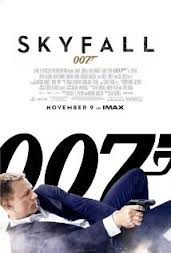 Why: forces an iconic hero to regain his status
(POTENTIAL SPOILERS)
After looking at these villains who became heroes in the last couple of posts, lets look at what you do with an iconic hero to keep him interesting. James Bond is the man. No matter which actor you prefer, I think we can all agree that Bond is always the spy of spies. He kicks butt. I mean, it's like, yeah, we get it. So what do you do with the character to keep him interesting?
You kill him.
Before the title sequence.
How awesome is that?
Okay, yes, he doesn't stay dead. Maybe only a second of flatlining or just mortal wounding, since "the recovery" happens during that fabulously trippy title sequence, but still. This guy was on top. Now he's not. He has literally sunk to the bottom. He's not even fit to serve. And he's going to have to redeem himself. Plus, do it while facing the biggest threat ever to his beloved organization, beloved leader, and against a spy who was even better than him. Definitely is better than him now.
Wow. Talk about a struggle to become a hero. Because it doesn't matter that Bond was the number one agent. That's past tense. Now, he's unshaven and kind of gaunt, and drinking, and not fully recovered.
Because of who he was though, because we've seen him be amazing time after time, we want him to be amazing again. Our desire to have him achieve his redemption and regain his heroic status is ensured. Although, if you watched the movie rooting for Bond to fail, comment me, because that's pretty funny.
This desire to see Bond succeed, however, is coupled with baggage of there being all this expectation for him to succeed. Not just from the audience, but from M who has staked everything – her career, her life – on his ability to triumph.
There are, of course, doubters. Those who think he's too old. Should have stayed dead. That just adds to the delicious complications of it all.
By making Bond vulnerable, the filmmakers ensure we'll care about him in a way that wouldn't, IMHO, have happened had he just been great again. The greater they are, the harder the fall. And the more interesting the climb back.
Skyfall written by: Neal Purvis & Robert Wade and John Logan. Based on Bond character created by Ian Fleming.
SEE ALSO:
Subscribe for bonus content and insider scoops!
Twittering away...
Learned my 16 yr old thought the guys from One Direction were named Wade & Kyle. Even I know better than that. Good job, honey. Good job.
- Tuesday Jan 16 - 12:55am
I Believe in a Thing Called Love by @mauxbot is a total delight and I cannot pimp it out hard enough! Read this boo… https://t.co/RbHKKTkU7a
- Sunday Jan 14 - 5:58pm
These are fantastic! https://t.co/cVCSZiTWhP
- Friday Jan 12 - 5:35pm
Prince owns Gershwin's Summertime in jazz piano number. Gorgeous! https://t.co/M8fVFeOYoA
- Thursday Jan 11 - 2:35am
Yes to everything about this article! https://t.co/H6xQ6KcArV
- Monday Jan 8 - 8:35pm
Tellulah's Old Darlings