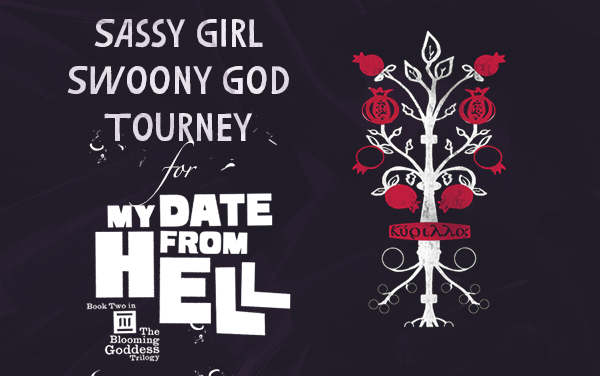 Well, darlings, this is the final piece of the Sassy Girl Swoony God Tourney which helped to launch My Date From Hell (The Blooming Goddess Trilogy). If you've never heard of this series, because you've been recreating Mars conditions in the Antarctic or studying the universe in the middle of the Sahara, it's a YA romantic comedy/Greek mythology trilogy following the trials and tribulations of one sixteen-year-old Sophie Bloom who gets a kiss from a bad boy at midnight and discovers that she's Persephone Goddess of Spring, key to saving humanity in the war between the Underworld and Olympus, target numero uno of Hades and Zeus, and totally screwed.
Things just get more complicated from there.
NOW TO THE WINNER!!
Just to remind you what was at stake: a t-shirt featuring a design of one of Kai's tattoos, a signed copy of My Date From Hell and (the best part) being immortalized as a character in the final book of the trilogy, My Life From Hell.
Yeah, yeah, I'll shut up.
Watch the video and see who won.
Huge congratulations to Choconator (Jennifer)! Get to know her better by checking out her blog: Boricuan Bookworms and Twitter: @JMMbookworm
If you didn't get a chance to check out all the wonderful entries and challenges, why not scroll through the past posts. Especially if you should be doing homework or work or housecleaning or something. This is way more fun.
And you're all caught up on Sophie's trials and tribulations in My Ex From Hell and My Date From Hell, right? No? Did you squirm guiltily? That's okay. Just hop on over to your favorite online book retailer and grab your copies.
Happy reading! And congrats to our winner! I can't wait to turn her into a character.
*cackles gleefully*
RELATED POSTS:
Welcome to the Sassy Girl Swoony God Tourney for My Date From Hell  (All the tourney fun starts here.)
Subscribe for bonus content and insider scoops!
Tellulah's Old Darlings