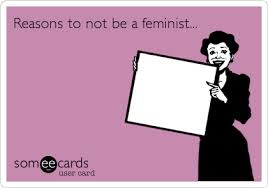 A couple of weeks ago, I wrote a tribute post to funky geek girls. When I think of geek girls, I assume that of course, they're all feminists. Or at least aren't going to distance themselves from the word. Because isn't this type of empowerment part of geek girl culture? That said, I would have hoped it was part of all female culture in this day and age – especially in the Western world.
But once again, some female celebs made sure they were not labelled a feminist. Caley Cuoco and Meghan Trainor being the latest examples. It got me wondering, since many of these celebs seem to be of a similar age – is this really how all younger generations feel? I mean, I do believe that celebrities influence how their fans think, especially if those fans are younger. So is it game over for feminism, or is perhaps (fingers crossed), the pendulum swinging back the other way?
It was time for a highly scientific experiment. By that I mean, I got my thirteen-year-old daughter to email her friends (twelve and thirteen years old) and ask them if they would define feminism for me, for a blog post. Now, admittedly, I think her friends are awesome young women, so I was hoping the results were skew towards the positive.
But, in the interests of science, let's see some of the answers we got to "Define Feminism." I left their answers pretty much as they were given to me.
1) "Sometimes women are seen as helpless and men seen as warriors but with feminism, that doesn't have to be true. Men and women can choose who they want to be."
2) "Let's be clear feminism isn't just supported by cat lover hipsters … it is supported in different ways like "white girls" in crop tops too …feminism is women."
3) "It's not just girls who can be whoever they want, guys can be, well not weak, but they don't have to act so strong if they don't want to. You know what I mean. And no violence toward one sex or the other."
4) "I believe feminism is when someone is against gender roles and sexism, you believe in equality, and having rights. Though, I find some people use 'feminism' as a method of pushing their opinions in other peoples' faces. You find some girls lashing out at men and being equally sexist as the men are to them. Besides, I feel like there's this idea that if you're a feminist that you are strong and opinionated. But shouldn't feminism mean that we accept all kind of women? Even women who maybe think they need men in their life, or follow more girly stereotypes? Feminists don't come in size or shape, colour or gender. Feminists are people who fight for fairness.
Feminists I think realize they don't need men to do all the work for them, and they wanna get paid equally and not feel like a toy. Many girls can't go out at night with a short skirt without being cat called. I feel so many women are threatened just because they're, well, women. We have a right to control our bodies and not always feel like the lesser gender. Of course, there is more equality between sexes then there was a long time ago, but there's also more men harassing women just because they can. Obviously, there is a huge amount of people being sexist to boys as well as girls, but that's kind of a different subject, huh?"
So what does it prove? It proves that these girls have thought about it. It proves that while they may find the term or the people using the term to be problematic, that they are not willing to dismiss the entire concept out of hand. It proves that they believe in a world where fairness and equality are a given.
And if that's where they are already, at this point in their lives, then yeah, I have hope.
Subscribe for bonus content and insider scoops!
Tellulah's Old Darlings