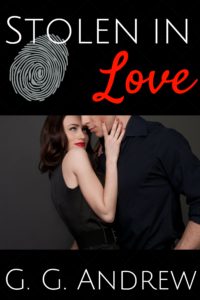 I've been lucky enough to do some beta reading for G.G. Andrew and her stories just make me happy: funny, flirty, and with a ton of heart. So help me welcome her here today.
Synopsis:
Kim Xavier steals things. She can't help it. Recovering from her shoplifting addiction has never been easy, but she's giving it a shot. When she comes home to a ransacked apartment, Kim knows she's finally taken the wrong thing from the wrong person. And she can't tell the police–especially not the cop whose heart she broke months ago.
Scott Culpepper wants Kim Xavier. He can't help it. Ever since he met the smart-mouthed woman while on patrol in New Haven, he hasn't been able to get her or her red lips out of his mind. Unfortunately, she's also got a police record, and the single dad has learned the hard way not to get involved with unpredictable women.
But when Kim is threatened by someone selling information used to harass women online, Scott steps up to keep her safe–even if it means spending more time with her than he should. The two work to unravel the case, which leads them from the dirty underbelly of the Ivy League to posh preschool parties to a drug dealer who can quote Kerouac. Though the biggest danger may be Kim stealing the very thing Scott can't afford to lose: his heart.
1) I was laughing right off the bat with the "Do you need a paperback or something?" line. But you made me cry as well.  So talk to me about tone. Is it something that you think about when you're developing the story or do you dive in and let it play out as you write?
Great question! I used to think I wrote lighter romantic comedy, but I am realizing that I usually have main characters who are a bit broken. I learned to write stories by giving characters faulty ways of living that would get fixed through the course of the book, so those characters usually have had some trauma or bad experience–an addiction, a bad breakup, a crappy family situation, or just a quiet suppression of their dreams that led to carrying around a dysfunctional belief. Sort of like when a leg breaks and you don't get it set properly. But I love to bring the funny too, because life is often funny, even when it's tragic–and let's face it, love can be pretty ridiculous and humorous (at least if the stories I've heard about Tinder are true). So I write romantic comedies where characters have real issues, so there are some serious moments and emotions amidst the cop jokes. But Stolen in Love is the first book where multiple reviewers have said they cried!
2) I loved Kim and Scott from the get go. Their voices are so much fun but they are also both dealing with really challenging situations and genuine emotional baggage. What was your way in to the characters and was there a particular moment or line of dialogue that brought each one to life for you?
Maybe because I write romance, my way into characters is to write them interacting with one another. I already knew Kim and Scott because they make an appearance in Graffiti in Love (the first book in the Love and Lawbreaker series), but I think they really came to life with me in this book when Scott is in his policeman's uniform on Kim's parents' doorstep and trying to convince her to let him help find out who broke into her apartment the night before. It's not the first time they interact in the story–they bump into each other in chapter one when he's out jogging (and shirtless, which is important 🙂 ). But it's the first time they're interacting both as their personas and as themselves. He's dressed as a cop, she's joking and defensive. Yet they reach a level of honesty in the scene that I like, with Kim asking him outright why he's trying to help her, and him admitting that it's because he needs her back at her apartment because he's too tempted by her staying with her parents in his neighborhood.
3) You deal with kleptomania in this story and you don't pull any punches with depicting addiction and living with this affliction. What made you want to explore it and what were the challenges around that?
I really like writing complicated female characters, especially those with mental health challenges like Kim's addiction to stealing. Kleptomania is also interesting in that's it's unusual and often hard to understand. I have a graduate degree in counseling, and I used what I knew from my education and experiences with addiction, as well as people I've known affected by it. I also read some about kleptomania itself, which manifests in different ways for people. But of course, writing about something like this is always tricky, especially when I write in Kim's point of view. It's also a challenge in that I wasn't sure how people would respond to Kim in this book. A lot of readers enjoyed her in Graffiti in Love, but in Stolen in Love you see her struggling with her addiction so much more–and it's not something in her past, but something she's still dealing with, and succumbing to. So far, the response has been fairly positive, though!
4) This romance is essentially a second chance story, which is a trope I love to read. Is this one of your favourite tropes to write, and if so, how come?
Yes! I love second-chance romance. I write a romance trope series off and on on my blog, and when I covered second-chance romance, I mentioned that it has the potential to be really emotional and high conflict, and that's one of the reasons I dig it. It's just so fascinating and fun to watch two people who've had a history come back together. There's a richness there that's absent from two people falling in love for the first time. I like reunion stories for similar reasons. It's just so juicy to explore.
5) Stolen in Love is super sexy, from simmering tension between secondary characters to our leads being hot and heavy. How do you approach sex – from flirting to the act itself? Do you start with an emotion you want to convey, an aspect of character you wish to reveal or a sexy detail? What sets the scene for you?
Another great question! More than anything, I think about where the relationship needs to go when I write a sexy scene (which may or may not include sex, since I write at different heat levels). Do they need to finally succumb to one another in a hot kiss? Should they have a slow, tender scene to show that they're falling in love, not just sleeping together? Can they be arguing during, because that's part of their dynamic? Setting is also big for me. I like having characters kiss or get together in places that are not only unusual, but reflect a part of their personality or what's happening in their relationship. Also because it's fun.
6) You handled the mystery element of the story wonderfully and I was flipping pages trying to get to the whodunnit. So why the desire to make the main plot the romantic one? What is it about romance and that type of human connection that excites you as a writer?
This was my first time writing a romance that was also a mystery, and I had fun with it–though it's a lot of work! (Props to all mystery writers out there.) But although I love mystery (and horror), romance is special to me. I love watching two people fall for each other: the flirting, the not-flirting, the stolen glances, the kissing, the witty banter… just everything. A lot of genre fiction really hits you in the feels, and with romance it just makes me feel so amused and joyous and excited. And fascinated, too–though I'm not sure I can explain why! But I was always the person in college who made her friends tell her every.last.detail. about a love interest or a date, so I could properly analyze a.) his emotional state, b.) his intentions, and c.) where the relationship was going. I could turn a five-minute update on a guy to a two-hour discussion, easy.
7) What are you working on next? (And please tell me it's Carter's story!)
Right now I'm working on a horror-romance novella for Paige Tyler's Dallas Fire & Rescue Kindle World! So it'll be a contemporary romance with a firefighter hero, but since I love spooky stuff, I'm also setting it at a haunted inn on Halloween night and bringing the scares. But this fall or soon after I will be working on the next Love and Lawbreakers book–which *will* most likely be Detective Carter's story. 🙂 If you've read Stolen in Love, you can probably guess who the hero is, and I'm so excited to bring those two together… probably with a lot of arguing, suspense, and steam, and most likely a fake-relationship plotline with Carter going undercover into the seedy New Haven underbelly with a certain someone as her way into that world.
BUY LINKS:
G.G. Andrew writes quirky romantic comedy. Sometimes it's paranormal, sometimes it's New Adult, sometimes it's between two adults in the real world who are arguing about grammar–but it always involves a lot of awkwardness and ill-advised kisses along the way.
She writes about books for the BookBub Blog. An avid nerd, G.G. also enjoys British comedy, black licorice, neon pink, frozen concoctions, monster movies, and any type of rom-com. She's probably drinking tea right now.
Thanks so much for being with us today!
Subscribe for bonus content and insider scoops!
Tellulah's Old Darlings