There are certain stories that become iconic – so beloved by the masses that unless you've been living in a cave, the references are universally understood. The Wizard of Oz is one of those stories. And then a storyteller comes along and takes on that mythic tale, forcing us to see it in a new way. Danielle Paige did just that with her fabulously titled YA novel Dorothy Must Die. Please help me welcome her to the blog today as we chat about taking on iconic stories.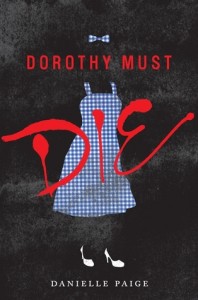 1. Like many, I was so excited when I saw the premise of your book – it's Oz! But it's Oz! So I wonder what you were most excited about and conversely most anxious about in returning to this iconic land?
I was terrified to step onto the Yellow Brick Road. I am a super fan, so it's sacred ground. But this vision of a little goth munchkin popped into my head and I was sold! Knowing I could create a new Oz-Ian broke the writing ice for me. And writing Dorothy dark was pretty scary, but so much fun. Once Dorothy broke bad, the characters and the world itself twisted and morphed with her.
2. When writing your version of Oz, did you consider either the book or the movie as more of your source material? Or did you draw upon both? The reason I ask is that you reference the ruby slippers which were a technicolour enhancement of the silver slippers in the original book, so I wondered if one or the other was more prevalent in your mind.
The books were my primary source. I reread them before writing Dorothy Must Die. But since I start the story in the real world, I liked the idea that Amy, my protagonist, has seen the movie. So the movie is in her head when she gets to Oz, and honestly, I think the movie is in every reader's head. And I must have watched it ten million times in my lifetime.
3. I really enjoyed how you spun our understanding of Dorothy's character on its head – not by taking the Wicked approach of "ok, here's what you should really know and understand about the witch being misunderstood" but by picking up the threads later in Dorothy's story. That it was the very fact of her initial visit that changed her. Was this your way in to your story or did it start with your protagonist Amy Gumm? (And great nod to Judy Garland there.)
Aw, thank you! everything comes from Dorothy. I loved Dorothy in her original incarnation, but I always wondered what was going on under that sweetness and light. So I wanted to know what it would be like to go home again after going to this magical place and making friends and being a hero. I think Kansas really would not compare to the technicolor! And that Dorothy would become dissatisfied with her home and want to go back. I wanted to explore how that want twists her. But it takes a little more than that to take her to the Dorothy we meet in Dorothy Must Die. (Check out the prequel No Place Like Oz)
4. Let's talk about home. Thematically, this is a key idea to Dorothy's journey – having to leave home to realize she had love and acceptance all along. Amy's Kansas (which can I say, I could have hung out in for an entire book) – Amy's pre-Oz life is also lacking in love and acceptance. How much did you think about theme when coming up with your story?
I wanted Amy to have a home life that she thinks is so bad that she would never want to go back to so she enters Oz really on some level believing she never has to go home again. an absent Dad, really strung out Mom, a pregnant bully at school, Amy already wanted to get out of Kansas. But the time she spends in Oz, learning how to fight back with the order of the witches finding her strength- I think there's a part of her that is actually beginning to work through everything that she faced back home. She doesn't want to go back- but she knows she could handle that bully back at school and that she could face her mom again. Both Dorothy and Amy learn things along the way that they did not know, but they end up in very different places.
5. What was behind your decision to add a romantic interest for Amy? Did you see her ability to believe in someone's feelings for her as part of her journey toward a sense of self-worth?
I love the idea of someone who has led a life largely absent of love finally finding it, but I don't want a boy to be the key to her finding her self worth. If anything I think Amy had to get to place where she starts to believe in herself before she could even begin to love anyone. And, Nox, who has actually had the support of the witches his whole life, but has really lived his whole life fighting for the cause, is equally unfamiliar with that kind of love. I like that Amy is teaching him to dream of a post-Dorothy future and he is teaching her to fight. They each bring something to each other and end up stronger for it.and maybe love will end up a stronger force in Oz than magic, but it's my Oz, so I can only say that Amy and Nox won't have an easy time of it.
6. The apocalyptic-dystopian tone is fabulous. You have some intensely creepy moments like when the lion faces off with the witch or the entire idea of your scarecrow mad scientist. I remember when I used to watch the movie as a kid, the monkeys terrified the crap out of me. Yet here you've turned everything on its head. It's the uber-manic Glinda who is terrifying. There is a lot of black and white/good and evil in your world. Can you speak a bit about the grey areas? Both in your Oz and in your characters?
I love the gray, I used to write soaps and so many characters made their home between good and evil. There is really a lot of scary imagery and characters in the books and the movie. I took things a little further, hopefully Baum would approve!
It's easy to be good back in Kansas, but in Oz where loyalties shift constantly, it's much, much harder. I think Amy has to figure out how to negotiate the gray if she wants to survive and triumph in Oz. But can she do it and maintain her own moral compass?
As for the world building, art was my minor in college and I sketch a bit when I write, I could see this creepy, twisted Oz in my head and I had to get it down in words, too.
7. With Wicked, and more recently Maleficent, we have writers adapting classical works and flipping our understanding of character. Audiences tend to be more sympathetic towards characters who are traditionally painted as villains, and Dorothy Must Die definitely participates in this, with Amy's decision to join the Revolutionary Order of the Wicked. Why do you think readers and writers are so excited by this flip in traditional narratives? And was it hard for you to turn these beloved characters – characters I assume you love – into villains who dissect animals and suck on fear?
Antiheroes are everywhere in tv and film these days, and audiences are following them. I think maybe because we all actually can identify with flawed characters, not the murderous parts but some of the other parts. Villains are often outsiders, with almost outsized wants and emotions which I think resonates, especially with teens.
In Dorothy Must Die, I liked the idea of the things that the characters once fought so hard for are now the things that corrupted them. The Tin Man is ruled by an obsessive heart, The Lion is 'roided up on the fears of others, and the scarecrow is using his big brain to create terrible things. Sometimes what happens when you get the thing you want most, when you get the power you've always longed for…in the case of Dorothy's friends it goes terribly wrong.
On the flip side, I think the Revolutionary Order of Witches have not changed as much. They are just using their skills for the cause of good.
I also love the idea that people and witches etc. have the capacity to be more than one thing. Circumstances and more importantly, choices are what make us Good or Wicked. Part of the fun of this series, is watching characters we love and sometimes love to hate make those choices, and end up somewhere we never expected. And in the Wicked Will Rise, The sequel to Dorothy Must Die, what is Good and What is Wicked gets even more confusing.
What a great glimpse into your Oz. Thank you so much for being with us, Danielle!
Subscribe for bonus content and insider scoops!
Twittering away...
https://t.co/1UHQhm57rN Cautiously optimistic about the premise
- Wednesday Feb 21 - 9:20pm
SPOILER ALERT! A fabulous video that you absolutely SHOULD NOT WATCH if you have not yet seen The Good Place s1 fin… https://t.co/Jqf3UnxHg3
- Tuesday Feb 20 - 4:15am
Lose yourself in a funny, sexy urban fantasy romance! The Unlikeable Demon Hunter: Crave releases Feb 20 and to cel… https://t.co/WPcUSnVRRu
- Sunday Feb 18 - 4:56pm
Bet you didn't know you could pair tap dancing and Star Wars! https://t.co/GS2qzvH7nJ
- Friday Feb 16 - 8:45pm
Better late than never! Discovered the Haim Time podcast on Beats One. So good!
- Friday Feb 16 - 6:45pm
Tellulah's Old Darlings