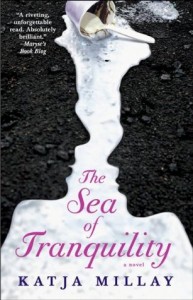 Some of you may know that before writing YA romantic comedies, I spent twelve years as a screenwriter, being lucky enough to work in both TV and film. And while I don't miss writing in that format these days, I do still love to talk craft. Which is why I'm glad that I still get to teach screenwriting. And why I want to share my geek love of talking story with you.
Happily, you're not going to have to just listen to me *puts on pompous professor voice* hold forth. The point of these Getting Into The Story posts will be to interview authors about some aspect of their work that I am truly impressed by.
I'm very excited to say that my first guest is Katja Millay. For those of you who don't know her gorgeous, brilliant novel The Sea of Tranquility, open another window now and go buy it. Seriously. Here's the Amazon link. I'll wait …
Okay, you good? My focus today with Katja, is on humour and tone. But first, a brief author bio.
Katja Millay grew up in Florida and graduated with a degree in film & television production from Tisch School of the Arts at New York University. She has worked as a television producer and a film studies and screenwriting teacher. The Sea of Tranquility is her first book.
Now, without further ado, let's get into our interview.
TD: I am so thrilled that you took the time to sit down and chat craft with me today! One of the many elements that blew me away in The Sea Of Tranquility, was your deft hand with tone and humour.
I'm curious to know how aware you were of these elements in crafting your novel. If I think about tone as the lifeblood of a story, it really informs everything from the mood of the world to a character's voice. And ultimately, tone needs to evoke a response in the reader. When you were developing the story, how much did you think about tone? Or even the specificity of emotional connection you were hoping to make with your audience?
KM: To be honest, I didn't actually obsess about tone while I was writing.  I was more concerned with developing the characters – who they were and what they were experiencing and how they acted as a result.  We spend the entire book in their respective heads, so I wanted to let their feelings and voices naturally create the tone.  They're both bitter and they feel entitled to that bitterness.  Nastya's attitude is unapologetic and it comes out in the form of blatant, undisguised snark whereas Josh's resignation expresses itself in a slightly more subtle dry sarcasm.
The emotional connection was paramount for me because first and foremost this was a character study so the success of that hinged on the reader being able to understand the characters.  I wanted the reader to feel what Josh and Nastya were feeling.
TD: I've found in many books with similar thematic areas, that it is very easy to either go the route of being extremely earnest and serious or resort to a snarkiness that can sometimes be jarring. (They're tone deaf. *grin*) I loved how you varied the use of humour in subtle but important ways depending on the character. So first off, how important is humour, in your opinion, in telling an authentic teen experience?
KM: I taught high school and while there's not a general rule that applies to any population, I found that by and large teenagers are witty and snarky and have very sharp senses of humor.  I think humor in some form is a vital part of life and all human experience so it felt necessary that it be present in the book. I find when I read, that even – and maybe especially – when it's used sparingly, humor helps to punctuate the story.  In TSoT, it was used because it was natural to the characters.  I wanted it to come organically from them and to be present because it was a part of who they were.
TD: Nastya doesn't speak for much of the story to most people. And yet, because we have access to her inner monologue, we're able to see how wry and insightful her humour is. It got me thinking a lot about how essential humour is, not just externally, but for ourselves to be able to move through the world. To cope with it. However, I didn't have a sense of her having that type of humour previous to, let's call it, the event. In your mind, how much of Nastya's comedic take on the world was shaped by the trauma she suffered?
KM: In my mind, prior to the event, Nastya hadn't consciously explored herself and who she was beyond the piano.  She was young, somewhat sheltered and naive.  She hadn't spent much time fully developing herself because she was obsessively dedicated to being a pianist and her sole focus was on that aspect of her life.  That was how she defined herself.  After that was taken away, she was left to figure out who she was without it and at that point she was a very disillusioned, angry girl.  I think her snarky attitude was cultivated over that period of loneliness and recovery where she was separated from much of the world and left to feed off her loss and resentment.  Later, when she's thrust back into high school some of it is simply an act, a mask of false bravado that she very much keeps in place – even for herself – as a coping strategy.
TD: For Nastya and Josh, how tied is their humour to moments of emotional stress for them? Do you think that there is any one emotion in particular for either that is a trigger for when their humour comes out? Or perhaps, more accurately, when their humour is wielded like a shield?
KM: For Josh and Nastya – Nastya, more so – it's often an avoidance tool and a defense mechanism.  I think Josh uses it in order to protect his feelings whereas Nastya uses it to protect not only her emotional well-being but her secrets as well.  In order to keep from having conversations she doesn't want to have or to avoid things she doesn't want to deal with, she turns to humor as a way to deflect.  Josh will say something serious to her and when she doesn't want to face that, she'll use sarcasm to try to redirect the conversation and issue an unspoken cease and desist.  There are moments we see that from Josh as well.  When he puts himself out there, even against his own will, and is afraid of the outcome or regretful of the vulnerability he's betrayed, he'll try to cover with sarcasm or the like.
TD: Drew is the most flat-out wisecracking of the bunch. And yet, it isn't just sarcasm. He reminds me of the fool or truth-teller in Shakespearean dramas. For example in this passage with Nastya:
"Josh isn't in love with me and I'm not in love with him."
"Sell it to someone who's buying, Sunshine. Have you seen the way he looks at you?"
"I've seen the way he looks at me but I don't know what it means."
"Like you're a seventeenth-century, hand-carved table in mint condition."
You could have so easily let Drew say something snarky at the end. But the hilarity of the passage, for me, is how attuned to an essential truth about Josh's character that he is. Can you speak a bit about Drew's voice?
KM: Drew was a mixture of immaturity and arrogance and loyalty and love.  Because of his personality, he naturally became a source of comic relief.  He made a joke of himself and no one took him seriously and he liked it that way, but underneath there was a lot going on and Drew didn't miss much.  He was aware of what was happening with Josh and Nastya before they were aware of it.  Drew's cocky humor was a mix of simply who he was – arrogant and irreverent – combined with his own defensiveness.  He was a self-made construct and he was very aware of it.  He had carefully created this image for himself but underneath there was an almost childlike, emotionally tuned-in boy who wanted to believe the world was a good place and wanted the people he loved to be happy.  He uses inappropriate humor and outright arrogance to mask and protect that vulnerable, idealistic part of himself.
TD: Do you think about the emotional pacing of your story at all? I remember, early on in my screenwriting days, being told when writing comedy to leave space for the laughter. I didn't want my audience missing jokes and needed to give them time for their emotional release. So I wonder, because The Sea of Tranquility is filtered through a dramatic lens, did you think about times that you needed light-hearted/humorous moments to give the reader space to process more intense dramatic episodes?
KM: I didn't follow any sort of formula; I tried to simply focus on creating something that felt real.  I didn't want it to be a one-note experience but rather one that was nuanced like life, with ups and downs that could be felt by the reader.  Even though these two people were going through something very dark, I wanted it punctuated by moments of hope and light but I wanted those moments to come about naturally.
TD: To wrap up, I'd love to know what kind of teenager you were. Were you that snarky girl? Did you say those wry things or merely think them? When you look back, how important was humour in getting you through those tumultuous years? Or just any last words on the matter?
KM: You really, really don't want to know.  I should probably plead the fifth here.  I was a nightmare as a teenager.  I wouldn't wish me on any parent.  I think, like many teenagers, I was at least two different people, maybe three.  I really couldn't say whether I was funny at all.  I probably thought I was, though I doubt my parents found much humor in me.  I was unbearably sarcastic and had a dreadful attitude.  Eventually, I made it out on the other side but there's a lot of cringing involved when I look back at that time.
There you go, darlings. Let me know what you thought of today's interview and what other topics you'd been interested in exploring with authors in the comments section below. A big thanks to Katja, and all of you please show love  and support for this wonderful novel, The Sea of Tranquility.
Subscribe for bonus content and insider scoops!
Twittering away...
SPOILER ALERT! A fabulous video that you absolutely SHOULD NOT WATCH if you have not yet seen The Good Place s1 fin… https://t.co/Jqf3UnxHg3
- Tuesday Feb 20 - 4:15am
Lose yourself in a funny, sexy urban fantasy romance! The Unlikeable Demon Hunter: Crave releases Feb 20 and to cel… https://t.co/WPcUSnVRRu
- Sunday Feb 18 - 4:56pm
Bet you didn't know you could pair tap dancing and Star Wars! https://t.co/GS2qzvH7nJ
- Friday Feb 16 - 8:45pm
Better late than never! Discovered the Haim Time podcast on Beats One. So good!
- Friday Feb 16 - 6:45pm
SNL, why did you cut this?! https://t.co/zW8qYyVfc0
- Tuesday Feb 13 - 12:45am
Tellulah's Old Darlings