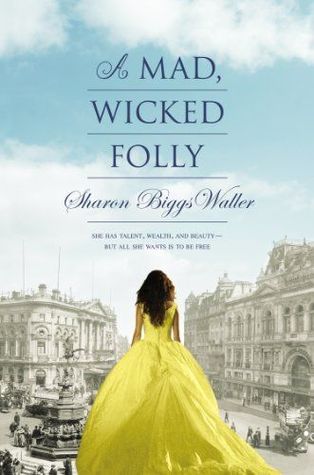 Today I'm extremely excited to share my interview with Sharon Biggs Waller, author of the lovely YA period novel A Mad Wicked Folly and it's protagonist, the feisty Vicky Darling. (How could I not love her with a name like that?)  I first discovered this book through the joys of Twitter when it seemed that all my friends were raving about it. So I picked it up and was extremely glad I did!
If you don't yet know this wonderful book, just go check it out here. I'll wait. And so that you can put a face to the woman behind the words, may I introduce Sharon Biggs Waller.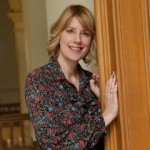 TD: It's wonderful to have you here with us today, Sharon. Thank you for stopping by and chatting about writing period YA that is relevant to today's readers.
SBW: Thanks for having me, Tellulah!
TD: To me, the best period stories fully explore their time in terms of social, cultural, gender, political (and all other) mores. There is a relevance to setting it then.
My first question is why this time and place? What drew you to it?
SBW: First of all, I agree with you!  I love stories that are fully interactive, that aren't just about pretty clothes and archaic travel.  I want to know exactly how people lived, what the air smelled like, what they ate, how they spoke, and moved, but also how they were challenged by that time and place.  The Edwardian era sort of chose me because I wanted to write a story about the suffragettes, but I wanted to set it when the suffragettes became most militant and were imprisoned and force-fed.  This militant period was toward the end of the Edwardian era.  This was a happy coincidence because I have long been fascinated by that time.  I love the clothing and the furniture and how people were opening up to bigger possibilities in life.  Women were stepping out of their traditional roles for the first time, and I really wanted to writer a story about how this mind-set began. Women didn't one day wake up fully emancipated; so I wanted to show how the demand for equal rights first came to the boil, so to speak.
TD:  What was your starting point for Vicky's character? Was it the limited opportunities afforded to her in her "native" world? The unlimited ones with the social upheaval taking place? Or something else entirely – like her passion for art?
SBW: I had a few false starts when I began FOLLY.  Initially I wrote my character wanting to join the suffragettes immediately, but it wasn't working; it wasn't compelling enough, so I started thinking about why and how a girl like Vicky would encounter the suffragettes and what would make her want to join them.  I think we all tend to look at people who stand up for a cause as admirable, but we aren't necessarily eager to join them.  We might make a donation, as Vicky offers to do, but until we really understand why we have to fight, we aren't as inclined to become a card-carrying member.  Vicky had to experience the discrimination in her own life first before she made the wider connection.  The potential death of her own dream and the lack of choices in her world made her want to stand with the other women.
TD: Again, in thinking about period stories, the best of them ensure that their characters could only have lived at this time. I loved that this was true of A Mad Wicked Folly. You present us with both a young woman and a time on the cusp. Both Vicky and her environment are experiencing growing pains as they struggle through their coming of age. I wonder then, was coming of age a connective bridge with modern readers? Or were you thinking about engaging today's YA lovers in a different way?
SBW: I didn't really think of it as a coming of age story, although I really like what you've said.  I suppose when I started writing Vicky's story I really wanted young women and other readers to understand that their dreams have meaning, and that what they say and think and feel is worthy. I think young women struggle with a lot of the same things that Vicky struggled with.  Society saw young women as ornaments for men—their real value lay in their appearance and how charming they were.  It was a case of "do what we say and you will be valued."  When you break away from that kind of mindset it's very difficult to do so on your own.  The suffragettes were there for Vicky.  Vicky's mother really had no one, had no role model to help her.  Her abandoned sketch and her frustration with her embroidery and with Vicky was important to the story because I wanted to show what happens when you don't value yourself and stand up for yourself.  The death of a dream is pretty awful.
TD:  Love triangles are a common staple of YA books. I have to admit, I'm not generally a fan. But I make an exception here. For me, this triangle was actually rooted in where Vicky herself was at and her tension between the advantages and costs of both. Given that most of your readers weren't going to relate to being pushed into an arranged marriage, what were you most aware of in terms of keeping readers connected with both romantic storylines?
SBW: Yes, I totally agree with you about the love triangle, but since Vicky never loved Edmund I hope this wasn't a true triangle!  As far as keeping readers connected, I think sometimes we make relationships for other reasons besides love or compatibility, whether we know it fully or not.  We might choose a person because he or she is accepted by the family or is safe or has money…you name it.  I think a real match is one where there is mutual respect and support, and where the other person encourages, and even pushes you to be the best you can be.  Vicky finds herself in this first situation.  If she married Edmund it would be okay, but she'd be in a relationship with someone who doesn't understand or support her.  Yes, she's safe, yes, she has money, but she's in a golden cage.  Will has such regard for Vicky, and he even is willing to lose her friendship when he first pushes her to admit that she's fine with being trapped and not free.  It's a relationship based on mutual respect and regard. I think those are the best ones.  Plus they have awesome chemistry!  There's that too!
TD: What do you find most exciting about writing YA, and how did that play out in this story?
SBW: I really get a kick out of falling in love with a setting or someone or something through my character's eyes. With Vicky I developed a real passion for the suffragettes and Pre-Raphaelite art.  I always loved the Waterhouse painting A Mermaid and the Pre-Raphaelites, but until I started writing FOLLY I didn't really see it fully.  Now I have so much love for those works.  One of the two Beata Beatrice paintings that Dante Gabriel Rossetti did hangs in the Art Institute of Chicago and I love to go there to look at it.  Because of Vicky, the painting has so much more meaning to me now.  Without giving too much away, I also became a fan of art flyposting, namely with street artists like Banksy.
I also try to immerse myself in my character's life as much as I can, so that helps me understand my character more, sort of like method acting.  I bought a lot of art supplies and had my dad (an artist) show me how to use them.  I wanted to know what they felt like and what they smelled like.  Writing the setting makes me see things in a new light too.  I notice more things when I'm in London now. I'm currently working on a story set in mid-Victorian China, and I'm really falling in love with the country through my character's eyes.
I think this kind of desire comes out best through YA novels because young people have such a hunger for life. The newness of their adult world is very compelling; they want to experience all that life has to give, and that is writer catnip!
TD: I'm curious about your decision to root Vicky's artistic bent in the Pre-Raphaelites rather than any art movement more current (youthful?) happening during her life. And yet, they were a reform group. Can you speak about Vicky's art and artistic sensibilities in terms of her character? Do you see her fondness for this movement related at all to her youth and the growth she had to undergo to come into her own?
SBW: The PRB were like rock stars in the Victorian era, and were major fodder for the tabloids (yep, there were tabloids even then!). They lived life their own way, very Bohemian, some would say that lead to their downfall, but they marched to their own beat, creating amazing work as they did.  I liked the parallel between Vicky's life and theirs.  I have to say that the women (models, artists, wives, and girlfriends) of the PRB were no Victorian shrinking violets either.  These were strong women who lived outside of the norm, which was quite the risk in the Victorian period.  Of course for Vicky, I wanted to put a spin on the PRB's work. I wanted her to look at the men in the same way the PRB looked at the women.  She saw men as passionate, vulnerable, sexy and inspiring.  She wanted to show their emotions outside of the usual heroic poses.  Vicky is a passionate girl, so it was natural that she'd be drawn to the PRB.
TD: Finally, is this the period that you'd most like to live in? Doing what? And is there anything else you'd like to share?
SBW: I'd love to time travel to the Edwardian era to wear those clothes and march in Suffragette rallies.  I'd love to chain myself to a railing and shout out a suffrage speech.
Sharon has also kindly offered up some great swag. 10 lucky winners will receive copies of the gift that Will gives to Vicky in the book. A page from the poetry book that he gives her, it features an illustration of The Mermaid on one side, with the Tennyson poem on the other.
Pretty cool. The contest will run until April 20, so get your entries in.
a Rafflecopter giveaway

Enter soon, enter often! And huge thanks to Sharon for chatting with me! 🙂
RELATED POST:
Getting into the Story … Interview with Katja Millay
Subscribe for bonus content and insider scoops!
Tellulah's Old Darlings