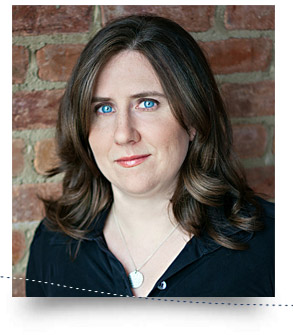 Those of you who follow my reviews know that I consider About Last Night one of the all-time best contemporary romances. So I'm incredibly excited that its author, Ruthie Knox, took time from her busy schedule to chat about writing sexy romance with a dash of humor.
1) It always surprises me when people think less of romance because the ending is a given. For me, it's all about the journey and the fun of making people doubt the happily-ever-after. What excites you about romance? And conversely, are there any tropes you try to steer clear of?
What I like best about romance is that because there is so much story structure front loaded, there is lots and lots of room to explore character. That is, because we know that the ending will be happy, and we know our couple will meet early on, and we know we'll watch them fall in love and dig into each other's hurting places and fall out and come back together, we're able to focus our attention much more closely on people—what makes humans tick, what wounds us, what captures our hearts and our attention, and how we learn and change. And that's what I'm interested in, in life, and as a writer.
2) As a romantic comedy writer myself, I obviously am a big fan of humor in romance. You handle comedy in such a beautifully, character based, organic way. How important is humor when it comes to love stories for you? How do you see the role of comedy in romance?
Thank you! As a reader, I don't require humor in romance — far from it. But as a writer I have gravitated to humor. Serenity Woods, who was a close critique partner when I was first publishing and a dear friend, helped me realize this about my writing: that I was funny, and should do more with the humor. I hadn't seen it as a feature until she pointed it out. It's certainly part of my personality to use humor to try to charm and win people over to my team, or to smooth conflict, or deflect subjects I don't want to talk about. I suppose when I write characters, I tend to write this tendency into them, too. We put romance characters into a lot of situations that are uncomfortable, and humor helps so much with discomfort. Until it doesn't anymore, and then you're stuck with choosing between honesty and flight. Aiee.
3) What's your way in to your books? Is it a sexy complication? A character flaw? A theme? Or does each story dictate its own way in to it?
Oh, that is such an organized-sounding question. Process feels so disorganized to me, and is so angering for that. My partner, Mary Ann Rivers, is always trying to help me with process, and to remind me that life is actually process, which makes me terribly uncomfortable, although I am learning. Most of the time there is some kind of seedling of an idea, like "two characters stuck together on a cross-country bike trip," and then I think about what kind of people I would put in a situation like that, and then I start doing research. The research gives me more insight into the people, which directs me toward more research, and eventually I figure out that I have enough of an idea of the general shape of things to start writing. I learn a lot while I'm writing, too, and do quite a bit of revision. So, in short, my way in is to wade in wearing hip boots and then thrash around awkwardly. And to cry in the middle, despairing that there will ever be a shore of any kind.
4) I love the men you write because they feel real. Much as I love Tom and Roman, Nev holds an extra special place in my heart. Which of your male characters is your favorite and why?
This is a surprisingly difficult question to answer. I guess my favorite is the most recent, Cal, who is the male protagonist in The Dark Space. He's only twenty-one, and so clearly not done yet, and there are a lot of ways that he reminds me of my ridiculous privileged lordling children and all they still have to figure out. But I enjoy that he's spontaneous, and someone who always says yes. It's refreshing in romance to meet a man like this—young, and charming, and skinny, and not especially handsome, but very much alive. I liked him from the start.
5) The fabulous thing about the women you write is that while there is a man who plays a catalyst role in their transformations, I always feel like it's the women themselves taking charge of their change. Deciding on their own terms to finally become the most awesome version of themselves. Talk to me about the importance of empowerment with your women.
Oh, sure. I'm not especially interested in women being empowered by men, or empowered because of love. Love is many things, including a fantastic motor for change, but I've never been convinced of the possibility that we can have genuine change or insight bestowed on us by someone else. We have to work for that shit! Which is highly inconvenient, and often leads to weeping and/or juvenile argument.
6) Your stories are hot hot hot! Aside from the steam factor, do you use these sexy scenes to accomplish other things? Are they emotional barometers? Plot twists? How do sex and love go hand in hand in your stories?
I guess they go hand in hand in my stories the same way they do in life. Sometimes sex is physical activity, and sometimes it's super-romantic lovemaking, and sometimes it gets halfway along and somebody gets angry and there's fighting, and—it's all the things, really. Because we're all just ordinary monkey humans, and we get big feelings, and orgasms, and skin feels good, and so does kissing, so we make poor decisions and blurt ridiculous stuff and locate intimacy and occasionally run away.
Which is all to say, I don't have some kind of theory of the role of sex in my fiction. I just put it in there when it seems like the thing the characters would do in that situation, and then I see what happens, and make them deal with the fallout.
7) Exciting news for all of us fans is your new novella The Dark Space. Tell us a bit about it.
It's very exciting for me! It's the first book I co-wrote with Mary Ann Rivers, who is my partner and best friend and an astonishingly gifted writer (read her Burnside series if you haven't), and it's also the first book we are releasing from the publishing house we founded together, Brain Mill Press.
Brain Mill Press publishes "love books for humans," which is our way of saying that we're going to compile a whole catalog of books dealing with human experiences with love — young and old and in between, and every race, and every different kind of gender and sexual identity, and every different sort of love. We're also interested in flattening the differences between genre fiction and other kinds of fiction, and just publishing great books — love books — including literary books and sci fi books and short stories and young adult and poetry and romance novellas and erotic memoirs and everything in between.
It's our belief that all kinds of people like to read all kinds of things about love and humanity, and to find stories that make them feel. So we are going to publish those kinds.
And we're excited about the press, too, because we are partnering with artists to put original art on every book cover, and to produce really beautiful books in fine first editions that readers can preorder and covet and hoard.
The Dark Space is our launch book, and for that reason a very treasured thing. We wrote it a year and a half ago, and it took us this long to get it out into the world because we wanted to produce it to exactly meet our vision for it in every regard. We're very proud of how it's come out.
The Dark Space is a new adult novel, but only sort of, in the sense that it's about college. But it's not sexy-fake-melodrama college, it's really About College. It's about how scary it is to be about to launch into the world, and how so many of us get right on the cusp of adulthood and become terribly afraid we've missed our chance to be the person we thought we were going to turn into—that we've said "no" too many times when we should have said "yes," and we've failed to be authentic, or we've spent hundreds of hours having important late-night conversations about risk and changing the world but then never even changed our majors to the ones that meant something to us. It's about the future and its arrival, and learning how to say yes, and to make choices that are meaningful. All of that, in the story of Cal and Winnie, who take a theater class together that changes everything. And there's also some sex, and magic, and a little bit of stuff that makes everyone uncomfortable.
Here's the blurb:
"RIVERS AND KNOX WILL PULL READERS IN WITH THEIR WONDERFUL WRITING STYLE AND INTERESTING STORY ABOUT ENDINGS, BEGINNINGS, AND FINDING YOURSELF."
-LIBRARY JOURNAL
College senior Winnie Frederickson has accomplished nothing in four years but summa cum laude and the power of invisibility.
A professor's kid, carelessly popular Cal Darling feels like he's been going to college forever. If there's anything left to learn, he's not going to find it in the classroom.
The theater department's "make-out class" is famously hard to get into, and what goes on between the twelve people who take it every spring is an annual topic of speculation. Winnie needs one more arts class to appear well-rounded for fellowships. Cal is just … bored.
The dark space – a class, a place, a state of mind – is ready for them both.
"UNLIKE ANY NEW ADULT ROMANCE I'VE READ . . . THE DARK SPACE IS A STORY YOU WON'T SOON FORGET."
-USA TODAY
links:
Book page at Brain Mill Press — http://brainmillpress.com/project/dark-space/
Ebook buy link — http://bit.ly/1M6nz0k
Print + ebook buy link — http://bit.ly/1M6nBp0
Thank you so much for being with us today, Ruthie! I know I can't wait to read The Dark Space. And now, darling readers, Ruthie is generously giving away an ebook copy of The Dark Space as well as one-year membership to Brain Mill Press, which gives the Member access to exclusive content, a discount on BMP books, and early access to preorders, among other benefits.
Good luck!
a Rafflecopter giveaway

Subscribe for bonus content and insider scoops!
Twittering away...
https://t.co/1UHQhm57rN Cautiously optimistic about the premise
- Wednesday Feb 21 - 9:20pm
SPOILER ALERT! A fabulous video that you absolutely SHOULD NOT WATCH if you have not yet seen The Good Place s1 fin… https://t.co/Jqf3UnxHg3
- Tuesday Feb 20 - 4:15am
Lose yourself in a funny, sexy urban fantasy romance! The Unlikeable Demon Hunter: Crave releases Feb 20 and to cel… https://t.co/WPcUSnVRRu
- Sunday Feb 18 - 4:56pm
Bet you didn't know you could pair tap dancing and Star Wars! https://t.co/GS2qzvH7nJ
- Friday Feb 16 - 8:45pm
Better late than never! Discovered the Haim Time podcast on Beats One. So good!
- Friday Feb 16 - 6:45pm
Tellulah's Old Darlings