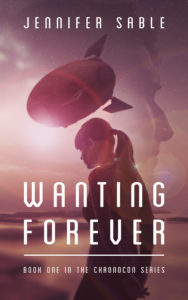 I'm delighted to have Jennifer Sable here to chat about her awesome book Wanting Forever.
Synopsis:
All Effone Pacifica has ever wanted is to be the captain of an airship for the ASPECT company. Now that she's successfully earned her own ship, she'll allow nothing to jeopardize her position or her crew. Not even the allure of Trace Fortis, whose ocean-blue eyes and appreciation for dictionaries could threaten to break through her defenses.
But Trace has his own demanding job as a carrier captain, and a hard past that makes romance impossible. When Effone is called away on a critical mission, she knows she has to let him go. Months later, reconnecting on assignment in the most remote, rugged land on earth, Trace and Effone have to face not only their feelings for each other but acts of sabotage from a mysterious enemy. Can they—not to mention their ships and crews—survive the attacks to finish where they left off?
1) I was fascinated by this world that had had 100 years to get back on its feet, technologically speaking, after the war. What about this particular world building excited you?
Oh, the possibilities! When I was a kid I watched The Jetsons on television and was always interested in seeing the future (in cartoon form.) When building a future world, there aren't too many rules beyond actual physics. I did try to imagine a world that runs 100% on renewable resources, and that was a bit of a challenge. As far as I know, no major aerospace company has perfected a heavier-than-air aircraft capable of carrying heavy loads at high speed that doesn't need a combustion engine to fly!
2) What was your starting point into Effone? Her name? Her being an airship captain? I really enjoyed seeing a female main character in this position of authority and thought you brought a wonderful competency to her.
Effone's name is a funny story. One day, many moons ago, I was paddling around the Internet when I saw one of those memes that said something like "The item to your left + the first word of the title of the last movie you saw = your airship captain name." This caught my attention for some reason, so I wrote down "iPhone Pacific" on a sticky note. That sticky note kept bothering me until one day I pulled out a sheet of paper and started tweaking the name. Eventually, Captain Effone Pacifica was born and she wanted, no, demanded, a story.
3) I loved the quote "Tall, blue-eyed, and educated had been a weakness of hers for a long time." Is that a personal weakness? What type of fictional male appeals to you both as a reader and a writer?
Tall is definitely a personal weakness for me. I'm on the short end of normal height, so I have to live a tall life vicariously through others. As for my favorite type of fictional male? That's a good question! I do like them to be intelligent, and mindful of the world around them. I like my book boyfriends to have accomplished things on their own merits. Kindness is a must!
4)This book is a long slow boil of sexual tension. Do you prefer writing the build up or the payoff? 🙂
I think (hope?) that I'm good at writing the build up. I'm still honing my pay-off writing skills. And while the pay-off can reveal a lot about the characters, the build up is possibly an even more intense character exploration. One gets to see the characters' reaction to delayed gratification, their wants, their desires, their self control (or lack thereof!
5) Trust plays a big part thematically, from Effone trusting her feelings to all the ways in which she needs to learn to trust Trace. What made you want to explore this?
Trust is such a difficult sort of thing. If you trust too much, it's easy to get burned. If you don't trust enough, it's easy to miss out on the good things in life. Trusting the wrong person can destroy your life, trusting the right person can be the most fulfilling thing to ever happen. Trusting people can be frightening and it's probably Effone's biggest fear. She's happy to make a mistake. She's fine with feats of daring. But the "crime" of letting someone through her iron-clad net of thorough background research and finely honed sense of character? That is what keeps her up at night.
6) There are a lot of quiet moments in your book, whether Effone's hot chocolate rituals or the non-sexual intimate moments with Trace. Do you consciously think about where you want these moments to occur, or is there a natural rhythm to your pacing?
I wrote this book with the "Think of things that will keep them apart. Make those things happen," mantra at the forefront, so there was little planning. I also wrote this book by the seat of my pants. I barely knew what an "outline" was at the time! So, I can say that there was no conscious thought about where the quiet moments happened. Also, Effone is naturally quiet and introspective. She has so many quiet moments, I could write an additional book filled with her thoughts and musings
7) Can you tell us what you're working on now? (And does it involve Anda's story?)
*You guessed correctly! I am indeed working hard at bringing Anda's happily-ever-after to readers' favorite reading device. She gets an adventure, meets a great guy, and finds a kitten all within one month. She's a busy woman, but I think she deserves all of those things. Especially the kitten.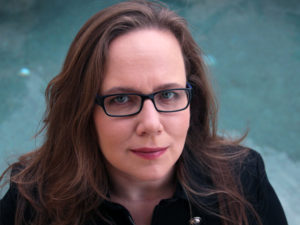 Author bio:
The most important thing to know about Jennifer is that she is a cat lady in training.
Before moving off into the world of writing, she spent over twenty years in theatrical production. During those years she has worked in almost every kind of venue imaginable, from convention center basements to long closed roller rinks. She graduated from college at eighteen with a degree in theatre management. The moral of the story is this: Yes, you can do something with that theatre degree, but it may or may not be theatre.
Release date: May 16, 2017
Pre-order links:
Amazon: https://www.amazon.com/Wanting-Forever-Chronocon-Jennifer-Sable-ebook/dp/B072HDJZ1G/
iBooks: https://itunes.apple.com/us/book/wanting-forever/id1229463284
Barnes and Noble: http://www.barnesandnoble.com/w/wanting-forever-jennifer-sable/1126270391?ean=9781946190017
Kobo: https://www.kobo.com/us/en/ebook/wanting-forever-2
Google Play: https://play.google.com/store/books/details/Jennifer_Sable_Wanting_Forever?id=7KK5DgAAQBAJ
Thanks so much for being with us, today, Jennifer!
Subscribe for bonus content and insider scoops!
Tellulah's Old Darlings