Help me welcome Jamie Blair & Dawn Rae Miller today, darlings! Having chatted with Jamie and Dawn online and now read their wonderful new book Kiss Kill Love Him Still, I knew I had to ask them to come on over and talk about the collaborative writing process.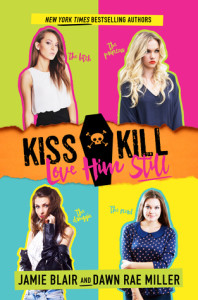 1) How did this writing partnership come about? Were you friends first? Had you read each others' work before deciding you wanted to write together?
Dawn:
We've known each other for about 5 years since meeting on Absolute Write. After building an online friendship, we met in person at a Romantic Times conference. We belong to an online writing group where we share our work, critique each other, and offer positive feedback.
Jamie:
Like Dawn said, we've known each other for a while, and after we both were part of the Dirty Boys of Summer anthology, we knew we wanted to pool our efforts on another project, this time collaborating on writing a novel.
2) What would you say are your individual strengths – is one person better at structure or voice or theme? Do you feel like there are certain areas in which you each have helped the other to grow as a writer?
Dawn:
I think Jamie is voicier. Her characters in KKLHS pop for me, and I tried to write my characters up to that level.
Jamie:
See, I was going to say the same thing, but that Dawn's voicier. After reading her first chapter in Livie's POV, I thought she'd kick me out of this collaboration and write it all herself! I think Dawn and I have a similar writing style—some of the women who have beta read for us for years couldn't tell whose characters were written by who—and we both take a laid back approach, knowing where we want the story to go, but letting each take the reins and run with it in her chapters.
3) For your latest novel Kiss Kill Love Him Still, I'd love to know if one of you approached the other with the initial idea? How do you work out your stories? Are you in the same room using index cards? Or Skyping? Do you have set-in-stone writing hours together?
Dawn:
The idea grew out of one we had with two other authors we worked with on the Dirty Boys of Summer collection. After those two authors bowed out, we began developing KKLHS in a more robust way.
We skyped a lot durning the early and mid phases. We were lucky enough to have a writing retreat scheduled for when we were finishing up. It gave us a chance to go over everything in person and hash out problematic areas.
Jamie:
We knew there was four girls and a dead guy who tied them together. We realized we had a definite Pretty Little Liars vibe, but with college-aged characters who had grittier lives. We developed our characters, each with a motive for being the killer, and started emailing the manuscript back and forth, both writing two chapters at a time– one in each of our characters' POV's.
4) Then once you get in to writing pages, what is the nature of your collaboration process? Do you divy things up by chapter? Do you find that each of you gravitate towards specific characters?
Dawn:
Jamie writes two characters and I write two. We exchange chapters and it feels a bit like a choose your own adventure. While we have a loose outline, we have plenty of room to flesh it out and make new plot points. I love seeing how Jamie connects our characters in her chapters, and figuring out how to run with that shift while staying true to the outline.
Jamie:
We email back and forth when a new idea comes to us that we want to suggest adding, and we share a Google doc too so we can keep track of plot lines for each character.
5) Having written with someone before, I know how great it can be. And how easy it can be to get snippy with each other.  There is definitely a certain level of trust required. How do you make sure to be kind to each other? And conversely, how do you solve creative differences?
Dawn:
We didn't really run into this with KKLHS. Ask again after Murder Madness Such Sweet Sadness comes out. Seriously though, I think our personalities and writing styles compliment each other.
Jamie:
Agreed – our style and personalities work for collaborating. I have 80 million ideas at once and Dawn keeps me grounded and going in the right direction.
6) What advice do you have for others wanting to write with a partner? What kind of conversations should the two be having before they begin their partnership?
Dawn:
Be sure your personalities, and writing styles and habits compliment each other. Be willing to be flexible. Have a schedule and clear expectations.
Jamie:
What she said.
7) What's next for you two?
Dawn:
Book 2 – Murder Madness Such Sweet Sadness comes out in Spring 2016. Aside from that, I have an adult book coming out next year and I'm working on a new YA.
Jamie:
In addition to Murder Madness Such Sweet Sadness, I have the first book in a cozy mystery series coming out (hopefully) next year.
Thanks so much to Jamie and Dawn for being here today! And be sure to check out Kiss Kill Love Him Still.
Subscribe for bonus content and insider scoops!
Tellulah's Old Darlings