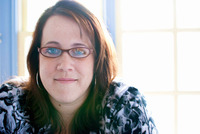 You have NO idea how incredibly excited I was when the lovely and talented Brigid Kemmerer agreed to take time out from her busy writing schedule and having a baby to do an interview with me. I was turned on to her YA paranormal Elemental series last year, when a ton of friends on Goodreads kept pimping it out. So I picked it up and immediately fell in love with the Merrick brothers and their stories.
Definitely go check it out. I promise you if you love swoony boys, fabulous females and a ton of "the edge of your seat" action, you will not be disappointed! Now, on to the interview …
Thanks so much for joining me today, Brigid, to discuss writing swoony males in YA fiction! I do love a good alpha male, but I believe that the best beloved YA guys have a bit more realism to them. Capable and strong they may be, but they still question themselves in terms of identity and belonging. Issues that older male characters may not struggle with.
1)   So my first question to you is, despite working within a supernatural world, how important is it to you that your heroes feel realistic?
VERY important. I try very hard to make my stories a good blend of contemporary and paranormal. I spend a lot of time thinking about my characters and giving them more challenges than just having supernatural powers. In Storm, Chris is trying to deal with his ability to control water—at the same time he's struggling with self-doubt and trying to establish his role in the family. In Spark, Gabriel's ability to manipulate fire gets out of control—but he's also dealing with a learning disability and a hot temper that gets him into trouble. And so on.
2) Each of the Elemental stories contains a romance. How much thought did you initially give to creating romantic heroes and audience expectations around that?
I just wrote the boys as they were. No hero is going to be perfect for everyone, so I wrote them the way they felt in my head and created heroines who I thought would match them well.
3) I've read a lot of "power" books where the powers are random. They just happen to possess X. One of my favorite TV series, Misfits (the UK version) uses power as a cautionary tale – careful how you see yourself. I really enjoyed how power is so tied to character in your Elemental series. We have Michael with earth powers who is very grounded, Gabriel the fire wielder who is hot-tempered and has anger issues. Or Nick who controls wind and is cool, playing things close to his chest. Could you speak a bit about your thought process in terms of making power relevant to character?
Thank you! It's a lame answer, but really, it just kind of worked out that way. I didn't deliberately set out to have their powers so closely linked to their temperaments.
4) When I went into Nick's story, perhaps the one I was most excited about, I wasn't initially sure about Quinn taking so much time away from him in terms of her own storyline. But her character and evolution as a whole blew me away. You create strong, complex females and I'm wondering if you consciously think about having strong girls who then challenge and demand more from your male protagonists?
When I first started trying to find a publisher, one of my recurring rejection notes said that my female characters were too weak. I was disappointed, because I personally was sick of reading about the ball-busting tough-as-nails heroines, and I wanted to read (and write) some female characters who could be a little softer. When I started writing Becca's story, I deliberately set out to let her be strong enough to stand on her two feet, yet vulnerable too. It was a delicate balance, and it took me a while to get it right, but I'm so happy I kept at it.
5) Obviously, each of the Merrick brothers undergoes growth and transformation, not only in their own stories but over the course of the series. Taken as a family, how do you see their evolution? And how does that speak to their coming of age or coming into their own as young men?
I read an agent blog post once where she said that in a YA novel, the character should begin the story seeing the world through the eyes of a child, and finish the novel seeing the world through the eyes of an adult. That's somewhat simplistic, but I think about it a lot. I want each of my characters to grow as an individual, first, but also as a member of his own family. I try to give glimpses into what the other brothers are doing in each book to continue this arc.
6) One of the writers of Battlestar Galactica (brilliant writing on that show!), discussed how they were always conscious of making characters fall into gray areas vs being black and white. So the Cylons had some humanity and the humans had "villainous" characteristics – were culpable in some ways for their own downfall. This made the writing harder but smarter as well. With paranormal worlds, it so often is black and white, but from the start, I felt you were playing with the gray areas. Definitely more so as all your characters develop. Is this something you consciously plan out or just the instinctive place you like to play?
Both! And I'm glad you brought this up, as my husband and I were just having a discussion about this recently. I love the gray areas. When characters are strictly good or evil, they tend to be boring. It's said that the villain is the hero of his/her own story. Even if a kid gets a thrill out of kicking dogs, there's generally a reason behind it: maybe his dad kicks him every night and this is the only way he can regain some sense of self-control. (Though that's obviously a very villainous trait.)
7) What's your favorite part about writing swoony YA boys? And is there any wish fulfillment from your own teen years going on?
I don't know about wish fulfillment (though I did come up with the Merrick brothers when I was still in high school, and it's likely that there was some wish fulfillment going on THEN. :-D). I love writing YA in general because it's so immediate, and there's no room for BS. YA readers are smart and savvy and don't suffer fools. It's a fun way to read, and even more fun to write.
I hope you enjoyed hearing from Brigid. And if you've read these books, give me a shout so we can discuss!
RELATED POSTS:
Getting into the Story … interview with Sharon Biggs Waller
Getting into the Story … interview with Katja Millay
Subscribe for bonus content and insider scoops!
Twittering away...
https://t.co/1UHQhm57rN Cautiously optimistic about the premise
- Wednesday Feb 21 - 9:20pm
SPOILER ALERT! A fabulous video that you absolutely SHOULD NOT WATCH if you have not yet seen The Good Place s1 fin… https://t.co/Jqf3UnxHg3
- Tuesday Feb 20 - 4:15am
Lose yourself in a funny, sexy urban fantasy romance! The Unlikeable Demon Hunter: Crave releases Feb 20 and to cel… https://t.co/WPcUSnVRRu
- Sunday Feb 18 - 4:56pm
Bet you didn't know you could pair tap dancing and Star Wars! https://t.co/GS2qzvH7nJ
- Friday Feb 16 - 8:45pm
Better late than never! Discovered the Haim Time podcast on Beats One. So good!
- Friday Feb 16 - 6:45pm
Tellulah's Old Darlings