Get Real
(#1)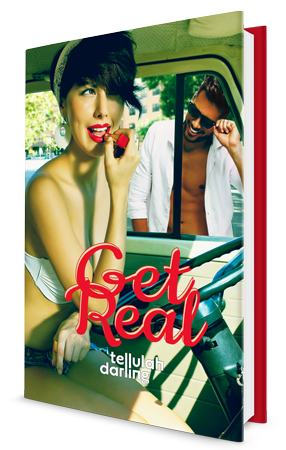 Magic and Mayhem in Manhattan
Francesca Bellafiore comes from a nice Jewish family — one that happens to have magical powers. Underneath her good-girl exterior, though, she's a wannabe badass with dreams of becoming a paranormal detective.
Party boy Rafael Muñoz does everything possible to publicly disappoint his high profile father. Privately, it's a different story. His carefully crafted bad boy reputation masks the fact he's a master illusionist, forced into solo covert ops. The role is wearing thin and Rafael longs to be part of a team.
When Francesca and Rafael meet, it's love at first sight… For about five minutes. Rafael is spectacularly attractive—and, Francesca discovers, fully aware of the fact. Rafael knows from experience that girls like Francesca are more trouble than they're worth.
So it sucks big time when they're caught in a web of magic, minions, secrets, and enough sexual tension to power NYC. Their only chance to save the city and survive is to team up, trust each other–and maybe even fall in love.
Provided they don't kill each other first.
Get Real is a romantic comedy, urban fantasy whirlwind with sass, sex, and swoon.
Download an excerpt of Get Real
Reader Reviews of Get Real
Erin (Fiction Fare)
Not only does she build a great, character driven story but the addition of the magic and how it ties everyone together only adds to the story. If you are looking for a fast paced story with interesting characters, a bit of magic, and a bit of romance…definitely consider checking this book out.
Michelle (Book Briefs)
It has one of the best romances I have seen in a new adult paranormal or fantasy. The storyline is utterly engaging and the writing is perfect. … One of the best books I have read this year.
Chanpreet (Confessions of a YA and NA Book Addict)
If you love to laugh, swoon, and enjoy a great story with action, suspense, mystery, and a dash of magic this book is perfect for you.