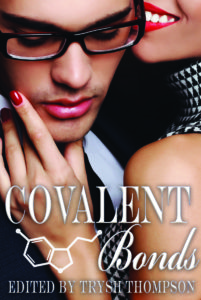 Covalent Bonds, an anthology celebrating geek love that includes a short by yours truly is available for pre-order. Buy it for yourself. Buy it as a gift this holiday season. You won't regret it.
Forget the old stereotypes: geeks are sexy.
Covalent bonds aren't just about atoms sharing electron pairs anymore—it's about the electricity that happens when you pair two geeks together. This anthology celebrates geeks of all kinds (enthusiasts, be it for comics, Dr. Who, movies, gaming, computers, or even grammar), and allows them to step out of their traditional supporting roles and into the shoes of the romantic lead. Forget the old stereotypes: geeks are sexy.
Featuring nine stories ranging from sweet to hot, by authors G.G. Andrew, Laura VanArendonk Baugh, Tellulah Darling, Mara Malins, Jeremiah Murphy, Marie Piper, Charlotte M. Ray, Wendy Sparrow, and Cori Vidae, Covalent Bonds is a chance for geeks get their noses out of the books, and instead to be the book.
"The Hacked Match" by Wendy Sparrow
"Issues" by Jeremiah Murphy
"Addie-cted" by Charlotte M. Ray
"Spoilers" by Marie Piper
"Rogue Trip" by Laura VanArendonk Baugh
"Critical Hit" by Cori Vidae
"Classification of Nerd" by Mara Malins
"Better Than Chocolate" by Tellulah Darling
"Girl Meets Grammarian" by G.G. Andrew
GRAB THE GEEK LOVE GOODNESS HERE:
Subscribe for bonus content and insider scoops!
Twittering away...
https://t.co/1UHQhm57rN Cautiously optimistic about the premise
- Wednesday Feb 21 - 9:20pm
SPOILER ALERT! A fabulous video that you absolutely SHOULD NOT WATCH if you have not yet seen The Good Place s1 fin… https://t.co/Jqf3UnxHg3
- Tuesday Feb 20 - 4:15am
Lose yourself in a funny, sexy urban fantasy romance! The Unlikeable Demon Hunter: Crave releases Feb 20 and to cel… https://t.co/WPcUSnVRRu
- Sunday Feb 18 - 4:56pm
Bet you didn't know you could pair tap dancing and Star Wars! https://t.co/GS2qzvH7nJ
- Friday Feb 16 - 8:45pm
Better late than never! Discovered the Haim Time podcast on Beats One. So good!
- Friday Feb 16 - 6:45pm
Tellulah's Old Darlings