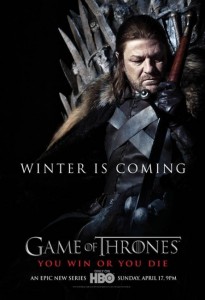 SPOILER ALERT
STILL ALERTING
SPOILERS COMING UP
HERE WE GO…
When I first started reading this series, my friend said to me "not everyone is going to live. And those that do are going to wish they hadn't." I'd been warned. Pretty clearly. And yet, when I reached that scene in book 3,  I threw down the book, stormed around the house cursing George RR Martin, declared my undying hatred, then picked the book back up and tore through the rest of it.
Here's what I think my problem was:
You know that little thing called "suspension of disbelief"? It lets us accept a world with monsters or alien attacks? Well, I think that while we're willing to suspend reality with no problem, we have incredible difficulties accepting reality. Isn't that why we read the damn books and watch the damn shows in the first place?
We've been conditioned for our fictional characters to behave in certain ways, speak in certain ways, and certainly not die en masse.
Some collateral damage is to be expected. Book six Harry Potter – sorry, Dumbledore, you're going down. (Okay and for the two people squawking about me wrecking that for them – it's been years. Get over yourself.) But see, that's like the "all is lost" point in a film. End of act 2 stuff where we brace ourselves for a death or major loss. We've agreed to this moment as the bearer of bad things.
Sneaky evil bastard that George RR Martin is, he don't play by those rules. He killed Ned before the end of Book 1. Not even the cliffhanger – what a cheater. Then he decimated 3 and a half characters partway through book 3. (In case you're wondering, the wolf counts as a full character, but wifey? Eh, I'm only allowing her half person status. Maybe 2/3 since she was with child.)
I submit to you, however, that even in the face of all that, the shock and outrage we're feeling, is our problem. We should know better.
Point the first: Look at the damn poster above. What does that tagline say? Oh yeah, "you win or you die". Not you win or some moderately upsetting things are going to happen. How much clearer could they get?
Point the second: Have none of us ever watched the news? Learned history? How many power struggles involving civil war and multiple contenders ever result in everyone walking away shaking hands at the end of it. "Good show, old man. Congrats on the throne, the rest of us are just going to pop off for a friendly pint now." (I don't know why everyone suddenly got British in this scenario, but it goes with the accents on the show.) See my earlier assertion that we don't like to accept reality.
Yes, you refute, but they already killed Ned, split up the family, faked us out with the boys' death – haven't the Starks suffered enough? Uh, no. They are that family. The one who loses mom to cancer, the twins in a car accident and the house in a fire when there is no insurance. This shit happens all the time. It's not right and it's not fair. If it hits our neighbours, why do we think fictitious characters should be safe from it?
Because we like our fictitious characters more.
Good luck with season four. That's all I'm saying …
RELATED THREADS:
Subscribe for bonus content and insider scoops!
Twittering away...
SPOILER ALERT! A fabulous video that you absolutely SHOULD NOT WATCH if you have not yet seen The Good Place s1 fin… https://t.co/Jqf3UnxHg3
- Tuesday Feb 20 - 4:15am
Lose yourself in a funny, sexy urban fantasy romance! The Unlikeable Demon Hunter: Crave releases Feb 20 and to cel… https://t.co/WPcUSnVRRu
- Sunday Feb 18 - 4:56pm
Bet you didn't know you could pair tap dancing and Star Wars! https://t.co/GS2qzvH7nJ
- Friday Feb 16 - 8:45pm
Better late than never! Discovered the Haim Time podcast on Beats One. So good!
- Friday Feb 16 - 6:45pm
SNL, why did you cut this?! https://t.co/zW8qYyVfc0
- Tuesday Feb 13 - 12:45am
Tellulah's Old Darlings