---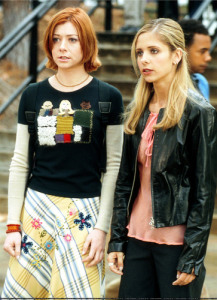 Let me start this post by paying homage to my favourite of all fictional geek girls – Willow Rosenberg. I love how geek girl culture has transformed. When I was a teen *mumble years ago*, I was most definitely a geek. While I was only just beginning my life long love affair (at the tender age of 15) with sci-fi and fantasy, I'd been bottle fed on Monty Python, was the nine-year-old who had her mind blown by Hitchhiker's Guide to the Galaxy, and was a generally brainy reader girl. I spent most of my school years in specialized academic programs where I learned side-by-side with my cousins, the nerds. They were smarter, I had better social skills. Oddly enough, during those years, I was often called "weirdo" by my fellow geeks and nerds because of how I dressed.
It was not what you think. I did not rock some stereotypical fashion impaired look. Hermione on a bad hair day would have made sense to them. No, I had a totally funky style which I was conditioned to think was freaky. Years later when former classmates told me how cool I'd always dressed, I made them repeat themselves to make sure I understood them correctly. Since they'd given me such a hard time about it. Not being so easily branded was not a good thing.
Which brings me back to Willow. I always loved how Willow dressed. The anti-skank. Buffy's wardrobe never struck me as particularly realistic to any teen I knew. But Willow was funky and cute. And as a mom to my own proud geek girl who has her own supremely cool sense of style, I love that today's geek girl comes in all forms. From piercings to Hijabs and everything in-between.
It makes me happy to see all these smart girls putting themselves out there in whichever way feels truest to them, and doing it with confidence. I celebrate you, today's geek girl! I celebrate your diversity and your passion and how in a world where so much is so wrong, you girls are so right. And I hope that the rest of the world appreciates how truly amazing you are.
Subscribe for bonus content and insider scoops!
Twittering away...
https://t.co/1UHQhm57rN Cautiously optimistic about the premise
- Wednesday Feb 21 - 9:20pm
SPOILER ALERT! A fabulous video that you absolutely SHOULD NOT WATCH if you have not yet seen The Good Place s1 fin… https://t.co/Jqf3UnxHg3
- Tuesday Feb 20 - 4:15am
Lose yourself in a funny, sexy urban fantasy romance! The Unlikeable Demon Hunter: Crave releases Feb 20 and to cel… https://t.co/WPcUSnVRRu
- Sunday Feb 18 - 4:56pm
Bet you didn't know you could pair tap dancing and Star Wars! https://t.co/GS2qzvH7nJ
- Friday Feb 16 - 8:45pm
Better late than never! Discovered the Haim Time podcast on Beats One. So good!
- Friday Feb 16 - 6:45pm
Tellulah's Old Darlings