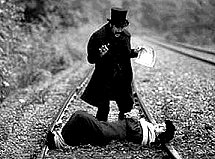 I once heard a study that said that people who hated radio personality Howard Stern listened to him like three times longer than his fans did. I always found this curious. I mean, if you hate the guy, why put yourself through it? But the conclusion I've come to is that they do it not to get angry, but out of hope. Out of a misplaced optimism that this time, he can't really be that bad. This time, whatever he says (and hey, I'm not just limiting it to old Howard here) will resemble something approaching rational human viewpoints.
I think that's why, despite all my rants and raves, I continue to find myself picking up new adult books. Each time I crack that cover I think "Yes. This is going to be the story that I fall in love with. The story that I absolutely identify with and just fall into."
Okay, sometimes it does happen. But more often than not, sadly, far too often in this genre, I find myself staring at the book wondering if I'm the alien or the character is. I'm going to go with "the character is" because I have enough neuroses.
I like my characters flawed. I mean, if they don't need to torturously undergo some kind of growth, where's the fun? But I've noticed a disturbing trend among NA female protagonists (and oh yes, the gender is key here) – they don't take charge of their lives, effect change, and grow.
They get rescued. Argh!!
Let me illustrate with two different books I recently read. We'll call them Annoying and Pretty Good. Both featured female protagonists with quite crippling social anxieties. First off, I don't think that social anxieties are a flaw. Mental illness or anxieties of any form are not something that the character is culpable for. To me, that would be something like being closed off to love. Or being a control freak or deluded. While I'd rather a flaw (the character herself is responsible for it) rather than something outside her control, anxieties such as these are absolutely challenging, so I'm willing to accept them as the aspect of character growth that our plucky heroine must overcome or learn to cope with in order to have a happy life.
Annoying dealt with the issue by having all the males in this girl's life be extremely controlling – for her own good of course, thereby accentuating everything she was anxious about to begin with. When she finally did get the courage to take control of her life, she was involved in a terrible car crash where she was the only one to have debilitating injuries. But happily (she says sarcastically) the men in her life decided to allow her a modicum of trust and with the love of the good guy by her side, she walked again. And now felt empowered.
Seriously?
Moving on. Pretty Good did have a love interest. But the protagonist decided on her own and quite independently that her social anxieties were something she wanted and needed to overcome. So she worked on it in a variety of situations, many of which failed to involve the love interest at all. (Le gasp!) Sister stood on her own two feet and very firmly (yet realistically) took back control of her life.
Guess which one I liked more? So please, let's stop selling our females short. Sure, have supportive, loving relationships – of all kinds – that help our heroine find balance in her life once more.
Just let her do all the heavy lifting.
Subscribe for bonus content and insider scoops!
Twittering away...
https://t.co/1UHQhm57rN Cautiously optimistic about the premise
- Wednesday Feb 21 - 9:20pm
SPOILER ALERT! A fabulous video that you absolutely SHOULD NOT WATCH if you have not yet seen The Good Place s1 fin… https://t.co/Jqf3UnxHg3
- Tuesday Feb 20 - 4:15am
Lose yourself in a funny, sexy urban fantasy romance! The Unlikeable Demon Hunter: Crave releases Feb 20 and to cel… https://t.co/WPcUSnVRRu
- Sunday Feb 18 - 4:56pm
Bet you didn't know you could pair tap dancing and Star Wars! https://t.co/GS2qzvH7nJ
- Friday Feb 16 - 8:45pm
Better late than never! Discovered the Haim Time podcast on Beats One. So good!
- Friday Feb 16 - 6:45pm
Tellulah's Old Darlings