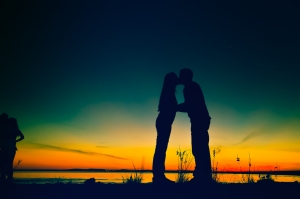 I love first kisses. I mean I write YA romantic comedy books, so believe me when I say I'm  a fan. Boy-girl, girl-girl, boy-boy, best friends, or former enemies – give me any romantic combo and trope and I'll cheer. (Obviously not love triangles.) And unlike my own, I hope that your first kiss was a moment to remember. All this to say that first kisses are a big deal in my reality.
Except …
My sweet baby girl is about to turn thirteen. While there are many wonderful things about this fact, the probability that somewhere in the next thirty years she'll have her first kiss is not one of them. Hi, my name is Tellulah Darling and I am a giant hypocrite! I am a seriously horrible person, because how can I be so pro-first kiss and have the thought of any nasty boy or girl's lips touching my daughter's make me want to lock her in that chastity belt and fire up the shotgun. Yeah, come close. I dare you.
Let's do a hypothetical test:
Your one and only daughter gets her first kiss. (At a perfectly reasonable age). You:
a) Listen to her swoon with a sweet smile
b) Lock her in a closet
c) Lock the other kissing party in a different closet
d) Any combination of b and c.
If you chose "A" – good for you. You are a lovely parent. I chose "D". With possible substitution on "C" of "exile other kissing party to Elba." Hey, it was good enough for Napoleon. Not like I'm sticking them on an ice floe in the arctic. (Not that I'm discounting that option either but the logistics are a tad daunting.)
Sigh. Momma is a mite confused. I feel bad about my hypocrisy but not enough to change my behaviour. I guess I'll just have to remain in denial about that day. And don't even mention that other dreaded "first". Yeah, her driver's license.
And if you have any good coping strategies that don't involve wine, because I've got that one covered, feel free to share.
Subscribe for bonus content and insider scoops!
Twittering away...
SPOILER ALERT! A fabulous video that you absolutely SHOULD NOT WATCH if you have not yet seen The Good Place s1 fin… https://t.co/Jqf3UnxHg3
- Tuesday Feb 20 - 4:15am
Lose yourself in a funny, sexy urban fantasy romance! The Unlikeable Demon Hunter: Crave releases Feb 20 and to cel… https://t.co/WPcUSnVRRu
- Sunday Feb 18 - 4:56pm
Bet you didn't know you could pair tap dancing and Star Wars! https://t.co/GS2qzvH7nJ
- Friday Feb 16 - 8:45pm
Better late than never! Discovered the Haim Time podcast on Beats One. So good!
- Friday Feb 16 - 6:45pm
SNL, why did you cut this?! https://t.co/zW8qYyVfc0
- Tuesday Feb 13 - 12:45am
Tellulah's Old Darlings