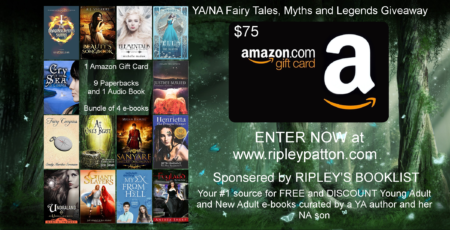 'Tis the season, here at Darling Enterprises. Last week, I mentioned the #VoteForLove romances available for download. (Psst, some still are…) And today it's all about a giant fairy tale, myths, and legends giveaway on until November 30!
What's available to win? Glad you asked!
Amazon Gift Card Prize:  $75
Paperback Prizes:  (10 authors)
Cry of the Sea by Donna Driver
The Dragonslayer's Sword by Resa Nelson
Sanyare: The Last Descendant by Megan Haskell
Justice Buried by Hilary Thompson
Henrietta The Dragon Slayer by Beth Barany
Beauty's Songbook by R. J Vickers
Feyland: The Dark Realm by Anthea Sharp
Giant Slayers by Jeff Altabef
Elementals: The Prophecy of Shadows by Michelle Madow
The Mermaid's Sister by Carrie Anne Noble
Ebook Prizes: (5 ebook prizes)
Undraland by Mary E Twomey
Ella, the Slayer by Anita Exley
My Ex From Hell by Tellulah Darling
Fairy Compass by Emily Martha Sorensen
The Selection by Kiera Cass
To enter:
a Rafflecopter giveaway

Good luck!
xo
Tellulah
Subscribe for bonus content and insider scoops!
Twittering away...
Husband just remembered that once, when asked what she wanted to be when she grew up, my kid replied, "I wanna be on stilts!" #soproud
- Friday Feb 23 - 9:25pm
https://t.co/1UHQhm57rN Cautiously optimistic about the premise
- Wednesday Feb 21 - 9:20pm
SPOILER ALERT! A fabulous video that you absolutely SHOULD NOT WATCH if you have not yet seen The Good Place s1 fin… https://t.co/Jqf3UnxHg3
- Tuesday Feb 20 - 4:15am
Lose yourself in a funny, sexy urban fantasy romance! The Unlikeable Demon Hunter: Crave releases Feb 20 and to cel… https://t.co/WPcUSnVRRu
- Sunday Feb 18 - 4:56pm
Bet you didn't know you could pair tap dancing and Star Wars! https://t.co/GS2qzvH7nJ
- Friday Feb 16 - 8:45pm
Tellulah's Old Darlings