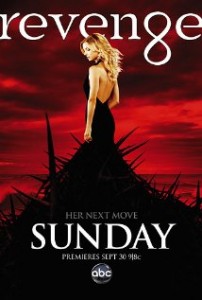 Why: a vulnerable mastermind
Revenge stories are tough. Sure, they're about getting justice for terrible wrongs left unpunished. But there is always collateral damage. In a two hour movie, it's fairly easy to ensure that the bad guys remain villainous. We cheer their downfall because the character trait overriding all others is that of corruption or greed or just plain evil. So, yay. Shoot the bad guy and then go lay those flowers on the grave of your dead wife that you've avenged.
But this series played a revenge tale out over 22 episodes. And that was just season one. It was a given that somewhere along the lines, the villains that Emily wanted taken down were going to be fleshed out as real people. With problems of their own and good qualities too. I think Revenge did that quite well. I couldn't just dismiss the Grayson family out of hand.
And that's exactly why Emily is such a great character. Because despite being drawn into the drama and humanity of the Graysons, we (well, I am) are still totally onboard with Emily's quest to avenge her father. And for that to happen, we had to be plugged in to Emily at a higher degree than the Graysons. Our sympathies had to continuously lay with her.
Emily is brilliant, and calculating, and methodical, and kick-ass. And none of those reasons are why I think she's great. It's because she's vulnerable. By bringing Emily back to the house in which she had her last good childhood memories, in finding the dog that was her beloved puppy, in reconnecting with the boy that was her best friend and probably perfect guy, and putting all those things in front of her and yet out of reach, the writers remind us again and again the cost of this quest to her happiness.
Emily is capable of great love. She can be incredibly loyal. I think that both are evidenced in her (reluctant) friendship with Nolan. Not to mention her relationship with Jack and even the qualms she's had about Daniel (when he was just dopey and not an ass). We've seen that she's trying to make sure more innocent people don't get hurt. Her loyalties result in both internal and external conflict, bringing about higher stakes and a greater emotional connection with the audience.
Fundamentally, she is a good person who was put on this path because of a terrible wrong and a great love. So it is heartbreaking to watch her put aside her own personal, current happiness out of love and sense of duty to her father's memory. Revenge needs to tap in to a primal place, and wanting her dad's name cleared absolutely fulfills that. But I think the best revenge stories take the greatest toll on the one seeking the revenge. Wonderfully and sadly, that's Emily.
Series created by: Mike Kelley
SEE ALSO:
Weeping Angels (Doctor Who) are great
Subscribe for bonus content and insider scoops!
Twittering away...
https://t.co/1UHQhm57rN Cautiously optimistic about the premise
- Wednesday Feb 21 - 9:20pm
SPOILER ALERT! A fabulous video that you absolutely SHOULD NOT WATCH if you have not yet seen The Good Place s1 fin… https://t.co/Jqf3UnxHg3
- Tuesday Feb 20 - 4:15am
Lose yourself in a funny, sexy urban fantasy romance! The Unlikeable Demon Hunter: Crave releases Feb 20 and to cel… https://t.co/WPcUSnVRRu
- Sunday Feb 18 - 4:56pm
Bet you didn't know you could pair tap dancing and Star Wars! https://t.co/GS2qzvH7nJ
- Friday Feb 16 - 8:45pm
Better late than never! Discovered the Haim Time podcast on Beats One. So good!
- Friday Feb 16 - 6:45pm
Tellulah's Old Darlings