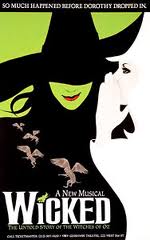 Why: she makes us all believe in the heroism of an iconic villain.
Every villain is the hero of her story. Remember that. We'll come back to it in a minute. Audience expectation plays a role when creating character. If I want to write a story about Santa but in my version he's an evil womanizer, sure, it could be done to comic or dramatic effect. However, I have audience expectation working against me. Because Santa is one of those characters that belongs to a popular mythology.  I mean the guy is kind of iconic for being jolly and kind, so I'd have that convention working against me.
There are certain characters for whom we all know the popular mythology, have ingested it like Kool-Aid. If, as a writer, I want to go against the way pretty much everyone thinks about a person, I can do it but it's certainly going to make my work a hell of a lot tougher.
Which brings me to Elphaba. The freaking Wicking Witch of the West. The ultimate green meany.
And yet…
Gregory Maguire made Elphaba the hero of her own story. How? Well, for me, it all comes down to one thing – Elphaba is the underdog and we all love to root for the underdog. She's a misfit in every sense of the word and in every way in this world. And while she may be green, her intelligence and strong moral code as she tries to live her beliefs in this land of superficiality, corruption, and lies makes me care what happens to her. Ultimately, aren't we all trying to be good people? Don't each and every one of us have something that brands us as other, whether it's as visible as Elphaba's skin or not?
There is a tremendous amount of sympathy generated for this woman who should be revered as she tries to show compassion in all areas and to all people and is, instead, derided. See, the Wicked Witch of the West may be iconic, but there isn't a lot to her. And now here's Maguire, forcing us to look at Elphaba as a human being. She didn't even have a name in the original story. How dehumanizing is that? Keep in mind that one of the basic tenets of hate propaganda is to dehumanize "the other". Make sure they aren't perceived as us. All she is, in the original Oz, is a green witch. She is a collection of scary traits, which work perfectly fine for a villain in that surreal world. But it's Dorothy who has the hopes, dreams, personality, friends and well, a name. Of course none of us were going to root for the witch in Baum's version (or the original movie).
Maguire takes Elphaba beyond a bunch of mustachio twirling, cartoon villain traits. He creates sympathy for her in her otherness, he forces her to struggle, investing us in her happy ending and he has her foes (name Glinda) change how they see her. How others see a character go a long way towards how we do. The more anyone else comes to love/respect her, the more we do as well. With every subsequent chapter and every subsequent hurdle, Elphaba becomes more human, more real and her green skin the symbol of everything right in Oz, not everything wrong.
By fully realizing Elphaba, giving her her own hopes and desires and goals, Maguire turns the tables changing an iconic hero to a villain with Dorothy, and more impressively this villain into a hero.
I don't know about you, but I've never been able to watch The Wizard of Oz since without a part of me hating that goody two shoes Kansas girl.
Wicked: written by Gregory Maguire
SEE ALSO:
Subscribe for bonus content and insider scoops!
Tellulah's Old Darlings