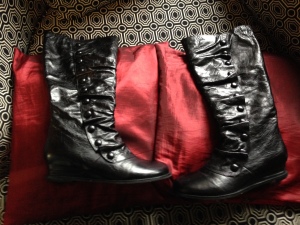 Cute, aren't they? FYI – they're Miz Mooz. But that's not all they are. They're also the gateway to evil …
What you have to understand is that for the entirety of my daughter's life, I've been getting mini me cracks about her. Apparently, we look alike. Neither of us see it, but we are both willing to concede that perhaps people get hung up on the hair and kind of stop there. It's annoying. Friends, family members, total strangers stop us to make that crack. Or some other cloning remark.
I didn't dress her like me while she was little. That gives me scary visions of mother-daughter beauty pageants which unless I'm in the audience heckling the contestants, I wouldn't be caught anywhere near. Also, she is waaaay more stubborn than me, which has nothing to do with appearance except she doesn't read my blog so I won't get an eye roll for writing that.
What we do have though–and its become more evident since she chooses her own clothes and accessories–is shockingly similar tastes. It was little things at first. A necklace that was very much like something I would wear. The hair accessory matching mine she requested in Hawaii. Then it progressed. There was the exact same shirt we both picked up independently on our tour around a store and came out of the dressing room to show the other person (for the record, she looks better in it).
Yes, I'm thrilled she can wear all those funky clothes that I no longer can. But, not gonna lie, it's hard too. I wish I could wear those cute tunics that are neither age appropriate for me or body flattering. The woman who owns my favourite store now puts aside clothing that she thinks my daughter would like. I want to stamp my feet and yell, "My store! Mine!"
But the boots? Those were the last straw. The child has long coveted my boots. Exactly as pictured above except in red. She's begged to be allowed to wear them for ages. I held my ground. Stood strong and refused. It was my Wall of Jericho. My Waterloo. (Yeah, yeah, I know.)
I thought the Heavens had smiled upon me when we realized that she couldn't wear my boots even if she wanted to. There had been maybe a two month window of her being my size to her rocketing to a size ten. Ha ha. Yeah, karma is a bitch. Because the other night, when we went boot shopping for her, we couldn't find a single pair of cute flat boots in her size. Store after store in a very large mall and there was nothing.
It was down to the last store. One of those specialty shoe stores carrying Naot, and Ecco and Josef Seibel. I didn't hold out a lot of hope. But they were having sales so in we went. More nothing. Cue the tumbleweeds. Out of desperation, we found a couple okay pairs within a half size, they might work. Then I looked over to the side of the cash register, on the floor, and had to open my big mouth. "Hey, look, they have Miz Mooz."
This store has NEVER carried that brand. But lo and behold, there were a scant 3 pairs of my boots. Of course the child immediately asked if they had size ten. The saleswoman explained all they had was what was on the floor. She looked at the boot the kid held out and said "Oh! That's a ten."
What were the freaking odds. With a smug look shot my way, the child asked to try them on. And so were they purchased. So that's it. If she has really and truly become my Mini Me, then I'm going to embrace my Dr. Evil.
You heard it here, first. 2015, the year I go evil and demand "one million dollars!"
Or just start making sure I don't leave the house dressed like my kid.
Sigh.
ps Daughter  *upon telling her about this blog post: "You could just wait a bit to write it. Then I'll be taller and you could be Mini Me."
Husband: "She said, with a sparkle in her eye and malice in her heart."
Ladies and gentlemen, my family.
Subscribe for bonus content and insider scoops!
Twittering away...
https://t.co/1UHQhm57rN Cautiously optimistic about the premise
- Wednesday Feb 21 - 9:20pm
SPOILER ALERT! A fabulous video that you absolutely SHOULD NOT WATCH if you have not yet seen The Good Place s1 fin… https://t.co/Jqf3UnxHg3
- Tuesday Feb 20 - 4:15am
Lose yourself in a funny, sexy urban fantasy romance! The Unlikeable Demon Hunter: Crave releases Feb 20 and to cel… https://t.co/WPcUSnVRRu
- Sunday Feb 18 - 4:56pm
Bet you didn't know you could pair tap dancing and Star Wars! https://t.co/GS2qzvH7nJ
- Friday Feb 16 - 8:45pm
Better late than never! Discovered the Haim Time podcast on Beats One. So good!
- Friday Feb 16 - 6:45pm
Tellulah's Old Darlings