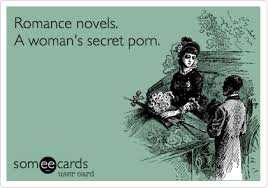 Hello darlings! I'm back from vacation. Europe was amazing and I got all fired up, working away on my new book – an entirely new romantic comedy/urban fantasy series that is once again New Adult. Emphasis on adult.
However, it's back to reality now. I wanted to share a question thrown my way recently – and not for the first time. Fellow romance writers, I don't think I'm alone in this.
"So, the sex scenes you write, that's pretty much just your sex life, right?"
Huh. I'm seriously trying to figure out where this question comes from? Am I supposed to have a lack of imagination and must be taking notes?
Now I'm not confirming or denying anything here, because let's face it, if you find my sex scenes spicy and are silently cheering me on for the bow-chica-wow-wow in my marriage, well, who am I to dissuade you? Conversely, if you find my sex scenes humdrum, I'm definitely not stepping up as the documentarian of them.
But it got me wondering if other genre authors suffer from the same problem. Do people go up to Stephen King and say, "You know that time when you got kidnapped by that rabid fan/had to fight the creepy clown/went nuts as a hotel caretaker, you pretty much just wrote it down verbatim, right?" And does he get invited to dinner parties on the strength of "Tell me more?"**
Did people ask Agatha Christie how come she kept tripping over bodies? And if this is the case, what exactly do people think is going on every day in the life of George R.R. Martin?
Going off to make up a sex scene now… or am I?
xo
Tellulah
** I am actually accepting new friends with chef/pastry chef backgrounds to invite me to more dinner parties. Feel free to send your resume.
Subscribe for bonus content and insider scoops!
Twittering away...
https://t.co/1UHQhm57rN Cautiously optimistic about the premise
- Wednesday Feb 21 - 9:20pm
SPOILER ALERT! A fabulous video that you absolutely SHOULD NOT WATCH if you have not yet seen The Good Place s1 fin… https://t.co/Jqf3UnxHg3
- Tuesday Feb 20 - 4:15am
Lose yourself in a funny, sexy urban fantasy romance! The Unlikeable Demon Hunter: Crave releases Feb 20 and to cel… https://t.co/WPcUSnVRRu
- Sunday Feb 18 - 4:56pm
Bet you didn't know you could pair tap dancing and Star Wars! https://t.co/GS2qzvH7nJ
- Friday Feb 16 - 8:45pm
Better late than never! Discovered the Haim Time podcast on Beats One. So good!
- Friday Feb 16 - 6:45pm
Tellulah's Old Darlings