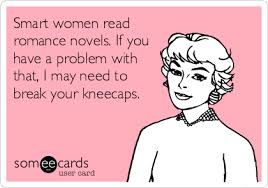 If you're anything like me, fellow romance readers, you have your genres that are your go-tos. Your happy place–be it sweeping family sagas or love in outer space. However, sometimes, you want to try something new. Or maybe, someone actually doesn't dismiss your romance reading and wants you to recommend something that speaks to their happy place. *Not a euphemism, you smutty darlings.*
Whatever the case, I thought I'd share some of of my most beloved romance books since the holidays are coming up and you might be looking for gift ideas. So let's get down to it.
If you're looking for: (click cover image to go to the Goodreads page)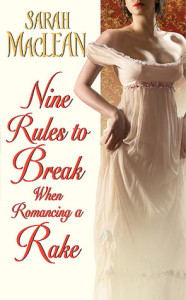 Historical romance is actually one of my happy places. And this book is one of the most sensuous and romantic titles. I have literally lost count of how many times I've read it and yet, each time, I'm still squealing with joy when things start to heat up between them. A romance that can still excite a reader who practically knows the story by heart is a romance that is to be treasured.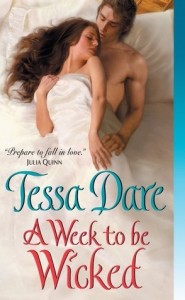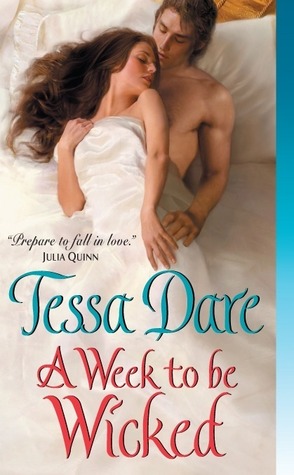 Take an infuriating alpha hero with selective amnesia and my favorite of all heroine archetypes, the brainy overlooked female, throw in a road trip and a giant fossil, and put it in the hands of Tessa Dare. Sit back and enjoy witty banter, much steaminess, the joy of the hot guy appreciating the smart girl and all over sheer delight.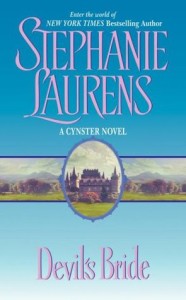 An early and longstanding beloved HR for me. Though, I admit it, this read is all about Devil Cynster and his high handed, arrogant ways. If an uber alpha is going to annoy the crap out of you, stay away.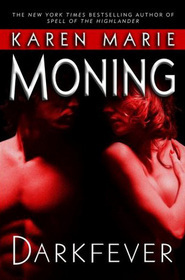 In my opinion, this series represents the best of the best in UF. Both our protagonist MacKayla, and Jericho Barrons (my book boyfriend and I'll shiv you if you try and take him from me) are perfectly written, with sexual tension galore. Throw in phenomenal world-building and the whole series is a win. UP TO THE END OF BOOK 5! I think the next 2 veered wildly off track and book 8 isn't out yet so I can't report on that. But the first 5? Oh yeah. And the initial storyline is pretty complete at that point.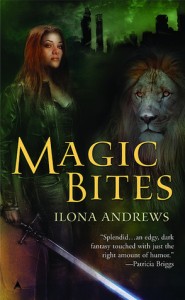 Oh Kate Daniels, you kickass lady. You may need to give this series a couple of books to really cement your love but again, a great central character, awesome love interest, and one of my favorite mythologies with fluctuating magic and tech in control at any given moment. If you like Ilona Andrew's writing, I'd highly suggest her Hidden Legacy series starting with Burn For Me.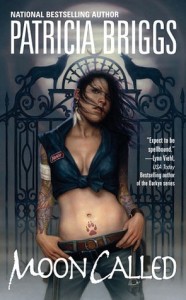 The thing about many urban fantasy romances, is that the romance part is a slow simmer over the series. So you can't go into them looking for a quick fix. Dive into the world of Mercy Thompson, mechanic and shapeshifter and discover a wonderful mythology, awesome female protagonist, and yes, great alpha love interest. Briggs has created a really fun and interesting world to hang out in.
Did you think I wasn't going to include romcom? Come on.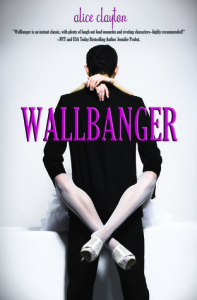 I don't often laugh out loud when reading a book. And it's even more rare for it to happen on a second or third read. (Fear and Loathing in Las Vegas being an exception.) Wallbanger though? Laughing aloud every time I read it. Sweet, spicy and lovely.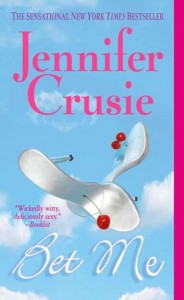 I've said it before and I'll say it again, Jennifer Crusie, is in my opinion, the Olympic gold medallist of romcoms with
Bet Me
 being her finest book. (Followed closely by her novel
Welcome to Temptation
.) For anyone who has ever loved a Nora Ephron movie, and wants a story to make you grin so hard it hurts, pick this up.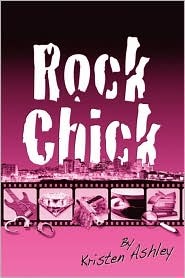 Ever get addicted to a TV series where the same kind of hijinks occur pretty much every episode? And sometimes you get sick of it and need to step away, but other times the familiarity of it is exactly what you're craving, and besides it's a hell of a lot of fun? Yeah, so that's this series. In a nutshell – female in trouble meets wacky group of friends and super possessive alpha male. Mayhem ensues. You'll end up having your favourites both in terms of the guys and the ladies. I know I have mine.
Last category, I swear.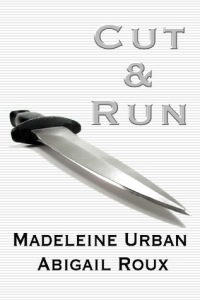 Yeah Ty and Zane are hot FBI guys solving cases, but it's the emotional heart of their relationship over this series that keeps me coming back. And the sizzling sex because who are we kidding? If you enjoy this series then I strongly encourage you to pick up the equally awesome Sidewinder spinoff.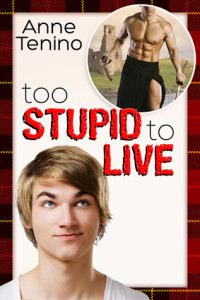 In my experience, it's rare to find an m/m romantic comedy. Especially one that hits all the right notes. It's funny, it's sweet, it's hot, it's adorable, Sam and Ian are real guys with real relatable issues and my God I LOVE IT SO MUCH. You're welcome.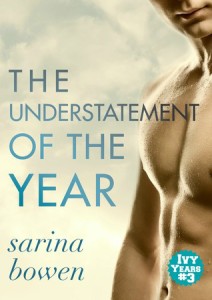 I will read any m/m that Sarina Bowen writes. These college aged gay romances have heart, wit, and swoon. Plus she makes me care about hockey guys. I may be the most hockey-uninterested Canadian ever so props to her for pulling that off.
All right, I'm tired now from gathering all these book covers. Go away and read. And report back on which ones you loved.
xo
Tellulah
Subscribe for bonus content and insider scoops!
Twittering away...
https://t.co/1UHQhm57rN Cautiously optimistic about the premise
- Wednesday Feb 21 - 9:20pm
SPOILER ALERT! A fabulous video that you absolutely SHOULD NOT WATCH if you have not yet seen The Good Place s1 fin… https://t.co/Jqf3UnxHg3
- Tuesday Feb 20 - 4:15am
Lose yourself in a funny, sexy urban fantasy romance! The Unlikeable Demon Hunter: Crave releases Feb 20 and to cel… https://t.co/WPcUSnVRRu
- Sunday Feb 18 - 4:56pm
Bet you didn't know you could pair tap dancing and Star Wars! https://t.co/GS2qzvH7nJ
- Friday Feb 16 - 8:45pm
Better late than never! Discovered the Haim Time podcast on Beats One. So good!
- Friday Feb 16 - 6:45pm
Tellulah's Old Darlings