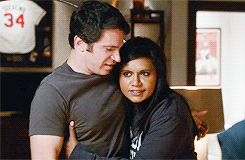 The Mindy Project spoilers ahead! If you're not up to date, (and why not?) get caught up first.
Dear Mindy "Evil Genius" Kaling,
May I call you EG?
You, m'dear, are the total package. Funny, brilliantly talented, gorgeous, and smart, you've breathed desperately needed new life into the romantic comedy genre. But after watching Tuesday night's episodes, well, I can't decide if I'm madder at you or myself.
See, I've spent years subjecting whoever would listen to rants about how Hollywood gets romcoms all wrong. How from the giddy high of the 1980's, with Harry and Sally, Wesley and Buttercup, Loretta and Ronny (okay they're not technically romcom but what a hell of a couple!), the stories were plunged into the dark years of whocka whocka comedy stemming from klutzy girls wearing Manolo Blahniks, and leads that only seemed to end up together because they were the prettiest. Nowadays, it is pretty much a tumbleweed driftin' wasteland.
Hollywood had forgotten that when audiences know the ending, it's not enough to give us the swoony highs (perfectly timed to become trailer bytes) of their love. We have to fear for the couples' essential well-being, and doubt, with the darkest recesses of our soul that there is any way these two lovers could end up together. And I think the universe heard my prayers.
What an idiot I was.
I've felt many feels during my excessive TV and movie watching life. I've been shocked, saddened, surprised, and giddily delighted (the last one most often lately at your hands but we'll get back to that), but I'd never been profoundly heartbroken. Thank you so much for adding that experience into my repertoire. For two seasons, you built up this incredible, wonderful, real friendship between Danny and Mindy, making me ship them so hard. I don't ship. I root. I cheer. But I don't ship. The fact that I did with these two, probably should have been a sign that you'd pushed me down a slippery slope for which there was no buckling up but damn, was it going to be a bumpy ride.
Finally, after long last, came the kiss. And what a perfect kiss it was. I died during hiatus with that cliffhanger. But you threw us in to the "them" of them with wit and steam and romance. I sighed a great sigh and grinned a big grin.
Last night, you broke my heart. I mean totally and absolutely. You broke them up in the cruelest way possible because it was so rooted in truth and character and fear. What am I supposed to do with that? I can't dismiss you and the writers for it because it was the best choice. The only choice. The choice that ensures I and all your other rabid fans stay rooted to our seats as you painfully play out the "will they or won't they" of this. Yeah, yeah, intellectually I am aware that happiness may been adorable but it doesn't produce the comedy gold of heartbreak.
I take it all back. I don't care. I want Dandy (okay, we'll work on that) to be fine.  I no longer want what I wished for. There is fear in my heart and doubt in my soul and I have never ever wanted any two people to get their happily-ever-after as I have these two.
I'm not sure if I hate you or feel like bowing down before your evil genius and professing "I'm not worthy." Either way, I know this viewing experience may kill me. But what a way to go.
Yours, sigh,
Tellulah Darling
RELATED POSTS:
Mindy Lahiri (The Mindy Project) is great
Subscribe for bonus content and insider scoops!
Twittering away...
https://t.co/1UHQhm57rN Cautiously optimistic about the premise
- Wednesday Feb 21 - 9:20pm
SPOILER ALERT! A fabulous video that you absolutely SHOULD NOT WATCH if you have not yet seen The Good Place s1 fin… https://t.co/Jqf3UnxHg3
- Tuesday Feb 20 - 4:15am
Lose yourself in a funny, sexy urban fantasy romance! The Unlikeable Demon Hunter: Crave releases Feb 20 and to cel… https://t.co/WPcUSnVRRu
- Sunday Feb 18 - 4:56pm
Bet you didn't know you could pair tap dancing and Star Wars! https://t.co/GS2qzvH7nJ
- Friday Feb 16 - 8:45pm
Better late than never! Discovered the Haim Time podcast on Beats One. So good!
- Friday Feb 16 - 6:45pm
Tellulah's Old Darlings