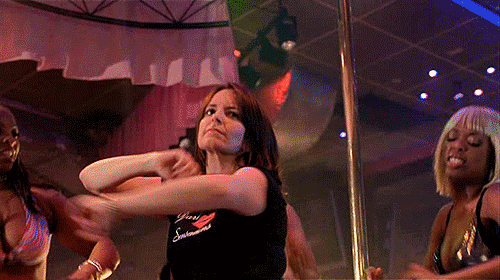 This past week, I read a Huff Post article about a plus size man, dancing at a concert, who stopped when he was laughed at. Body shaming in all its insidiousness. It has a happy ending because thousands of women invited him to a dance party which, I think Pharrell, is going to DJ. Lovely.
It got me thinking about body shame and humiliation. How many times had I quit doing something that gave me great joy because I was laughed at? Became acutely aware of how I occupied a space because of some off-handed comment about my body?
The first time that second question became my reality, I was six years old, at the pool for my swimming lesson. My mom couldn't find my top so she'd sent me in just my bottoms because "you're six. It's fine." Some other kid walked past me, looked at me and said, "Are you a boy or a girl?" Fair question. But those words led to years of me being super self-conscious that no one could tell I was female. That I'd somehow failed the girl test.
For all my incredible confidence in other areas as a child and teen, when it came to my sense of self as a female? Bzzz. Thanks for playing. When I gained weight in my twenties, that feeling was only intensified. I'm a reader girl, an avid TV watcher and film goer and what those stories taught me was that bigger girls can be the sassy best friend (a role I excelled at) but never the object of affection.
The nice thing about getting older is being able to call bullshit. I know that's not true. I've seen tons of gorgeous, sexy females of all ages who do not ascribe to any societal body norm absolutely lusted after and adored. But I don't think that concept is reinforced enough in our storytelling.
I love the Diversity in YA movement. It's beyond time for this to be a reality. For me, it comes down to creating characters that prove different types of girls can get the hot, amazing, guy.
You know, like I did.
Subscribe for bonus content and insider scoops!
Twittering away...
Finally worked my way through my TBR pile to Keystone by Dannika Dark and I'm so glad I did! https://t.co/7mNkl5f3dP https://t.co/DQRCBD1xCf
- Sunday Feb 25 - 4:54pm
Husband just remembered that once, when asked what she wanted to be when she grew up, my kid replied, "I wanna be on stilts!" #soproud
- Friday Feb 23 - 9:25pm
https://t.co/1UHQhm57rN Cautiously optimistic about the premise
- Wednesday Feb 21 - 9:20pm
SPOILER ALERT! A fabulous video that you absolutely SHOULD NOT WATCH if you have not yet seen The Good Place s1 fin… https://t.co/Jqf3UnxHg3
- Tuesday Feb 20 - 4:15am
Lose yourself in a funny, sexy urban fantasy romance! The Unlikeable Demon Hunter: Crave releases Feb 20 and to cel… https://t.co/WPcUSnVRRu
- Sunday Feb 18 - 4:56pm
Tellulah's Old Darlings