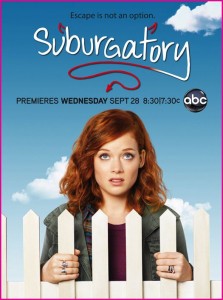 Why: a fresh take on the expected mean girl
I find Suburgatory a comic gem that is over looked. To be fair, it can get a little precious at times, but it's always funny and on the big plus side has the characters of Dallas and Dalia Royce. This mom and daughter should be the reining queen and princess of meanland but both constantly surprise and delight.
Dallas is hilarious but always in a "laughing with, not at her" way.  The sublime Cheryl Hines plays her with incredible heart and vulnerability, even while she takes no prisoners in keeping her spot at the top of the Chatswin heap. While she is definitely a leader in Chatswin, she does it her way. Often through generousity while wearing a smile on her face. No backstabbing, just pure friendliness. It would have been so easy with her short, animal print dresses, big blonde tease and front and centre boobs to reduce Dallas to the most tired of clichés. It is to Emily Kapnek's credit and the entire staff of Suburgatory that they keep her out of stereotype land, and make her a fully realized, complex and nuanced woman, struggling to have her own happily-ever-after, and always remaining optimistic in the face of her adversity.
Then there is Dalia, played with ennuied perfection by Carly Chaikin. Where Dallas is friendly, Dalia is most definitely a mean girl but with such a purity and dedication to her craft that it's enormous fun to watch. Take the episode where in retaliation for protagonist Tessa "stealing" her boyfriend, Dalia decides to steal Tessa's best friend Lisa. Showing the same genuineness as her mother, she truly befriends Lisa. Yes, it is all part of a mean girl plan but the overtures of friendship, brief as they are, are meant. Her brief foray into compassion and friendship is then brilliantly undone in a hilarious speech she later gives to Tessa, where she matter of factly lays out all the ways in which she is going to best Tessa:
"You know what's gonna be painful? When my mother remarries your father and I'm your new sister and Dad likes me best, and then we send you away to an all-girls boarding school where you find true love, and on visiting day, I come up and steal your new girlfriend. The following spring we marry in a civil ceremony which you are forced to cater. And everyone hates your catering. And you get a bad review on Yelp, which pretty much sinks your organic lesbian catering venture."
Dalia places no prejudices above the purity of the directive of ensuring her position. Her commitment is absolute. It's these surprising choices that keep this show so charming every week. Watch it and be highly entertained.
Series created by: Emily Kapnek
SEE ALSO:
Merida and Elinor (Brave) are great
Subscribe for bonus content and insider scoops!
Tellulah's Old Darlings