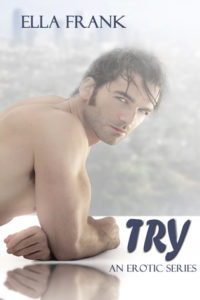 Try marks week 3 of m/m romance here on Curl up. We've had sweet YA, sexy fantasy, and now just blatantly erotic. Curious?
Synopsis:
Try – verb: to make an attempt or effort to do something or in this case…someone.
Sex. Logan Mitchell loves it, and ever since he realized his raw sexual appeal at a young age, he has had no problem using it to his advantage. Men and women alike fall into his bed—after all, Logan is not one to discriminate. He lives by one motto—if something interests you, why not just take a chance and try?
And he wants to try Tate Morrison.
Just coming out of a four-year marriage with an ex-wife from hell, a relationship is the last thing on Tate's mind. He's starting fresh and trying to get back on his feet with a new job at an upscale bar in downtown Chicago.
The only problem is, Tate has caught the unwavering and unwelcome attention of Mr. Logan Mitchell – a regular at the bar and a man who always gets what he wants.
Night after night Tate fends off the persistent advances of the undeniably charismatic man, but after an explosive moment in the bar, all bets are off as he finds his body stirring with a different desire than his mind.
As arrogance, stubbornness and sexual tension sizzles between the two, it threatens to change the very course of their lives.
Logan doesn't do relationships. Tate doesn't do men. But what would happen if they both just gave in and…tried?
Why I Love It:
I'm trying to figure out exactly why a character that was so aggressive in his sexual pursuit of a straight man, so adamant in his refusal to take no for an answer, and so good at head games made me like him so much. The shallow reason is that Logan is incredibly charismatic and sexy. The full force of his charm was heady, even as a reader. The deeper reason is that I really enjoyed watching the evolution of his character.
I fell under his spell, and the story's as a result, and was happy to go wherever it led me, even if it wasn't necessarily that realistic, especially with Tate's journey in the compressed time frame. Doesn't matter. Not what I was reading this book for. I was in it for the explosive sexual chemistry, the steamy hot sexy times, the longing, the desire, the rush, and the burgeoning emotional connection between Tate and Logan. Plus, none of the dirty talk made me laugh out loud so big props for that.
For all my love of a good m/m romance, I'm not sure why this one hadn't crossed my path until now, but am very glad that it did. Will I read the next one in the series? Not sure yet but even though this wasn't a stand-alone (the ending is definitely cliff-hangery) I was pretty satisfied with it.
A fast read, a hot read, and a one sitting read. Settle in and make sure you won't be interrupted.
Subscribe for bonus content and insider scoops!
Twittering away...
https://t.co/1UHQhm57rN Cautiously optimistic about the premise
- Wednesday Feb 21 - 9:20pm
SPOILER ALERT! A fabulous video that you absolutely SHOULD NOT WATCH if you have not yet seen The Good Place s1 fin… https://t.co/Jqf3UnxHg3
- Tuesday Feb 20 - 4:15am
Lose yourself in a funny, sexy urban fantasy romance! The Unlikeable Demon Hunter: Crave releases Feb 20 and to cel… https://t.co/WPcUSnVRRu
- Sunday Feb 18 - 4:56pm
Bet you didn't know you could pair tap dancing and Star Wars! https://t.co/GS2qzvH7nJ
- Friday Feb 16 - 8:45pm
Better late than never! Discovered the Haim Time podcast on Beats One. So good!
- Friday Feb 16 - 6:45pm
Tellulah's Old Darlings