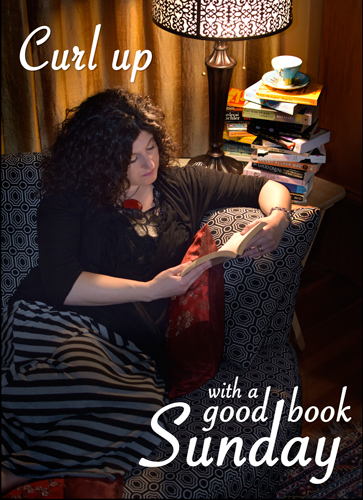 Hello darlings and welcome to my new weekly feature: Curl Up with a Good Book Sunday! Basically, it's me, every Sunday sharing a beloved book from some point in my life. I love gushing about my favourite books and pimping them out to new readers so I'm excited to be doing this.
And hopefully, you all will share some of yours back with me!
There was never any question which book I'd start with. The book that changed my life.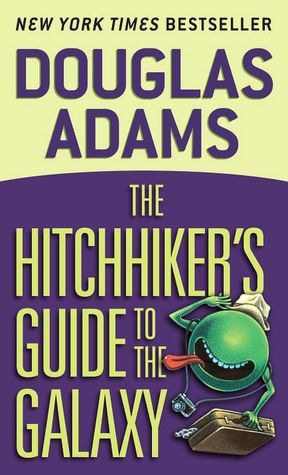 Synopsis (from Goodreads because it's already there and I'm lazy):
Seconds before the Earth is demolished to make way for a galactic freeway, Arthur Dent is plucked off the planet by his friend Ford Prefect, a researcher for the revised edition of The Hitchhiker's Guide to the Galaxy who, for the last fifteen years, has been posing as an out-of-work actor.
Together this dynamic pair begin a journey through space aided by quotes from The Hitchhiker's Guide ("A towel is about the most massively useful thing an interstellar hitchhiker can have") and a galaxy-full of fellow travelers: Zaphod Beeblebrox–the two-headed, three-armed ex-hippie and totally out-to-lunch president of the galaxy; Trillian, Zaphod's girlfriend (formally Tricia McMillan), whom Arthur tried to pick up at a cocktail party once upon a time zone; Marvin, a paranoid, brilliant, and chronically depressed robot; Veet Voojagig, a former graduate student who is obsessed with the disappearance of all the ballpoint pens he bought over the years.
Why I Love It
We've all heard the stories, right? About that kid who saw Star Wars for the first time and her little mind was blown when she fell into this crazy imaginative world filled with fabulous characters who go on an incredible adventure throughout the universe, because she'd never seen anything like it? OMG!! Squeeeeee!!! FANGIRL!!!
Hold onto that image.
I was nine. It was a fairly ordinary day, as they usually are when mindblowing things happen. I was at the library, which again, was pretty typical behavior for me. I LOOOVVVEEED the library. Loved its stillness and the sense of lose-myself possibility that existed with every book I pulled off the shelf. I still feel the same way.
So there I was, wandering around this small branch, looking for books. I had started reading at age 3, so by the time I was nine, I pretty much read anything. Mysteries that my dad left around the house, kid's books, classic lit, anything that struck my fancy was fair game. I don't remember my parents ever telling me I couldn't read something, so the only one making decisions of what was appropriate, was me.
I remember really clearly that I was playing with the paperback carousels. Having fun spinning one. When it stopped, I found myself facing a back cover which had two words that I'd never seen on a book before: Don't panic.
Huh? I pulled the book out and examined the title. The Hitchhiker's Guide to the Galaxy. Another huh. I opened the book … and fell in love.
I'd read funny books before and adventure stories. But they were usually serious quests. So a tale featuring a normal guy meeting an alien actor, a depressed robot, and the most fabulous Zaphod Beeblebrox, President of the Universe, while tangling with Vogon Poetry and hyper-intelligent mice and having to know where his towel was? It was the single greatest story I'd ever read!
My head exploded in the best possible way imaginable. I spent years raving about that book. And no one knew what I was talking about. Was I insane? Had I dreamt this magical, wonderful universe? And then, in my early teens, I found The Restaurant At The End of The Universe, thereby proving that I wasn't crazy.
Validation was sweet. But what was even sweeter? Getting to spend time with these characters again. I never lost my love of this book. It shaped years of pop culture consumption and had a profound effect on my own sense of humor.
So, when I realized that my own daughter was a voracious reader girl, I waited (impatiently, as I always wait) until I could introduce her to the story as well. When she was nine, we sat down and read it.
Mind blown, generation the second. And in that moment, seeing the joy on her face and hearing her insistence for just one more chapter, I was so grateful that I'd found this book without any expectation and could present it to her in the same way. Without any hype or because of some massive marketing machine.
Just a reader, a chance encounter, and a magical story that changed a girl forever.
Have you read this book? Discuss.
Subscribe for bonus content and insider scoops!
Twittering away...
SPOILER ALERT! A fabulous video that you absolutely SHOULD NOT WATCH if you have not yet seen The Good Place s1 fin… https://t.co/Jqf3UnxHg3
- Tuesday Feb 20 - 4:15am
Lose yourself in a funny, sexy urban fantasy romance! The Unlikeable Demon Hunter: Crave releases Feb 20 and to cel… https://t.co/WPcUSnVRRu
- Sunday Feb 18 - 4:56pm
Bet you didn't know you could pair tap dancing and Star Wars! https://t.co/GS2qzvH7nJ
- Friday Feb 16 - 8:45pm
Better late than never! Discovered the Haim Time podcast on Beats One. So good!
- Friday Feb 16 - 6:45pm
SNL, why did you cut this?! https://t.co/zW8qYyVfc0
- Tuesday Feb 13 - 12:45am
Tellulah's Old Darlings