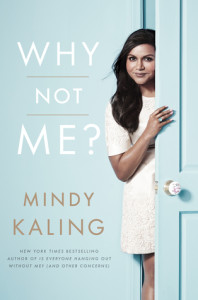 Shocked to see a non-fiction book here on Curl Up? Don't be. Why Not Me is a hilarious read by a hilarious woman.
Synopsis:
In Why Not Me?, Kaling shares her ongoing journey to find contentment and excitement in her adult life, whether it's falling in love at work, seeking new friendships in lonely places, attempting to be the first person in history to lose weight without any behavior modification whatsoever, or most important, believing that you have a place in Hollywood when you're constantly reminded that no one looks like you.
In "How to Look Spectacular: A Starlet's Confessions," Kaling gives her tongue-in-cheek secrets for surefire on-camera beauty, ("Your natural hair color may be appropriate for your skin tone, but this isn't the land of appropriate–this is Hollywood, baby. Out here, a dark-skinned woman's traditional hair color is honey blonde.") "Player" tells the story of Kaling being seduced and dumped by a female friend in L.A. ("I had been replaced by a younger model. And now they had matching bangs.") In "Unlikely Leading Lady," she muses on America's fixation with the weight of actresses, ("Most women we see onscreen are either so thin that they're walking clavicles or so huge that their only scenes involve them breaking furniture.") And in "Soup Snakes," Kaling spills some secrets on her relationship with her ex-boyfriend and close friend, B.J. Novak ("I will freely admit: my relationship with B.J. Novak is weird as hell.")
Mindy turns the anxieties, the glamour, and the celebrations of her second coming-of-age into a laugh-out-loud funny collection of essays that anyone who's ever been at a turning point in their life or career can relate to. And those who've never been at a turning point can skip to the parts where she talks about meeting Bradley Cooper.
Why I Love It:
You remember those celebrity lists? The ones where you named the top 5 stars you wanted to sleep with and then should the opportunity transpire, your significant other would send you off with a thumbs up? Well, my list is a top 5 of incredible women I want to be friends with and Mindy Kaling occupies the first 3 slots.
Talk about total package – a funny, smart, gorgeous, self-deprecating writer of romantic comedy. It was a no brainer that I would fall in love with The Mindy Project and Kaling's voice. Everything I love about her is in full force in this book as she examines the "glamor" of Hollywood, life as a showrunner, marriage, crushes, and best friends. Yes, her wit is in full force but there is an incredible amount of heart in this book and straight up Hells Yeah insightfulness with her advice to young women about being confident.
A fabulous read from a fabulous broad.
Subscribe for bonus content and insider scoops!
Twittering away...
https://t.co/1UHQhm57rN Cautiously optimistic about the premise
- Wednesday Feb 21 - 9:20pm
SPOILER ALERT! A fabulous video that you absolutely SHOULD NOT WATCH if you have not yet seen The Good Place s1 fin… https://t.co/Jqf3UnxHg3
- Tuesday Feb 20 - 4:15am
Lose yourself in a funny, sexy urban fantasy romance! The Unlikeable Demon Hunter: Crave releases Feb 20 and to cel… https://t.co/WPcUSnVRRu
- Sunday Feb 18 - 4:56pm
Bet you didn't know you could pair tap dancing and Star Wars! https://t.co/GS2qzvH7nJ
- Friday Feb 16 - 8:45pm
Better late than never! Discovered the Haim Time podcast on Beats One. So good!
- Friday Feb 16 - 6:45pm
Tellulah's Old Darlings