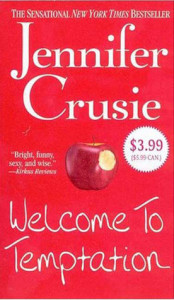 Happy Valentine's Day, darlings! If you're in the mood for love (book-wise), Jennifer Crusie's romantic comedies do the trick. I've talked many times about her book Bet Me, but today I want to feature my other fav of hers, Welcome to Temptation.
Synopsis:
Sophie Dempsey is content living a quiet life filming wedding videos until an assignment brings her to Temptation, Ohio. From the moment she drive into town, she gets a bad feeling; Sophie is from the wrong side of the tracks and everything in Temptation is a little too right. And when she has a run-in with the town's unnervingly sexy mayor, Phineas Tucker, making a little movie turns out to be more than a little dangerous.
Yield to oncoming desire…
All Sophie wants to do is film the video and head home. All Phin wants to do is play pool with the police chief and keep things peaceful. They both get more than they bargained for when Sophie's video causes an uproar and the proper citizens of Temptation set out to shut them down.
Welcome to temptation…
As events spiral out of control, Sophie and Phin find themselves caught in a web of gossip, blackmail, adultery, murder, and really excellent sex. All hell breaks loose in Temptation as Sophie and Phin fall deeper and deeper in trouble…and in love.
Why I Love It:
Sexy and swoony, I have lost count how many times I've read this book. It starts with Sophie, the high strung, wound tight videographer who'll do anything to downplay her con artist heritage, unlike her two siblings. But the unflappable Phin Tucker, mayer of the small, gossip-laden town of Temptation recognizes Trouble when he sees it, and Sophie lands firmly on his radar. Sparks, sexual games, burgeoning romance, and murder abound.
Sophie's arrival puts a trainwreck into motion. It's small town dysfunction at its finest. Despite the mayhem there is so much sweetness in Phin and Sophie's relationship. They are trying so very very hard to resist each other and it's so wonderfully pointless.
Whether you're being wined and dined tonight, or watching a Walking Dead marathon, fit this read into your schedule.
xo
Tellulah
Subscribe for bonus content and insider scoops!
Twittering away...
https://t.co/1UHQhm57rN Cautiously optimistic about the premise
- Wednesday Feb 21 - 9:20pm
SPOILER ALERT! A fabulous video that you absolutely SHOULD NOT WATCH if you have not yet seen The Good Place s1 fin… https://t.co/Jqf3UnxHg3
- Tuesday Feb 20 - 4:15am
Lose yourself in a funny, sexy urban fantasy romance! The Unlikeable Demon Hunter: Crave releases Feb 20 and to cel… https://t.co/WPcUSnVRRu
- Sunday Feb 18 - 4:56pm
Bet you didn't know you could pair tap dancing and Star Wars! https://t.co/GS2qzvH7nJ
- Friday Feb 16 - 8:45pm
Better late than never! Discovered the Haim Time podcast on Beats One. So good!
- Friday Feb 16 - 6:45pm
Tellulah's Old Darlings