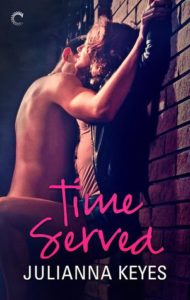 I just devoured Time Served and I've never been so surprised to like a book this much. Read on to find out why.
Synopsis:
Dean Barclay had nothing to do with my decision to flee my old life, but he is 100 percent of the reason I vowed to never look back.
I've never forgotten how it felt to follow Dean—dangerous, daring, determined—away from the crowd and climb into his beat-up old Trans Am. I was sixteen and gloriously alive for the first time. When I felt his hand cover my leg and move upward, it was over. I was his. Forever.
Until I left. Him, my mom, and the trailer park. Without so much as a goodbye.
Now Dean's back, crashing uninvited into my carefully cultivated, neat little lawyerly life. Eight years behind bars have turned him rougher and bigger—and more sexually demanding than any man I've ever met. I can't deny him anything…and that just might end up costing me everything.
Why I Love It:
I get the Smart Bitches Trashy Books newsletter (as many of us do), and this book was advertised as being on sale. That first sentence of the synopsis just hooked me and I like second chance romances so decided to buy it. In full disclosure, there were several elements in this story that made me deeply uncomfortable including revenge sex and a desire to humiliate the female main character. That is normally not anything I have any desire to read.
But I have to give Keyes a lot of credit, she not only kept me reading, I felt like she found a way in to both her romantic leads to make this situation believable. The fact that the MC was also questioning her choices around this guy helped. I was uncomfortable but I was completely engaged and on this erotic ride until the end.
Not only did I enjoy the tangled web of emotions and baggage, but Rachel is a lawyer and I really enjoyed the storyline around her professional goals. It didn't always go the way I expected it to, which was nice. The entire book was a really pleasant surprise and I'm happy to recommend it to all of you.
Subscribe for bonus content and insider scoops!
Tellulah's Old Darlings