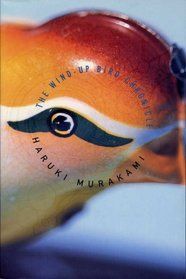 This was my first Murakami book and I clearly remember that sensation of sitting up a little straighter, gripped with interest and excitement. I'd never read anything like it.
Synopsis:
Japan's most highly regarded novelist now vaults into the first ranks of international fiction writers with this heroically imaginative novel, which is at once a detective story, an account of a disintegrating marriage, and an excavation of the buried secrets of World War II.
In a Tokyo suburb a young man named Toru Okada searches for his wife's missing cat. Soon he finds himself looking for his wife as well in a netherworld that lies beneath the placid surface of Tokyo. As these searches intersect, Okada encounters a bizarre group of allies and antagonists: a psychic prostitute; a malevolent yet mediagenic politician; a cheerfully morbid sixteen-year-old-girl; and an aging war veteran who has been permanently changed by the hideous things he witnessed during Japan's forgotten campaign in Manchuria.
Gripping, prophetic, suffused with comedy and menace, The Wind-Up Bird Chronicle is a tour de force equal in scope to the masterpieces of Mishima and Pynchon.
Three books in one volume: The Thieving Magpie, Bird as Prophet, The Birdcatcher. This translation by Jay Rubin is in collaboration with the author.
Why I Love It:
I like to think of Murakami's stories as existential sci-fi. I'm sure I'm not the one who thought it up but that's what's in my head when I think of his books. His writing is polarizing – one of those love him/hate him authors.
Yes, it is a story about a man whose wife goes missing. But the journey is this surreal technicolor dream where the lines between reality and hallucination blur. It is a story of alienation, identity, life, and death in a big fat book that is a surprisingly easy read. I tend to just fall into his stories and let myself be swept along their strange currents.
I may not always know where I am but all is made clear by the time I reach my destination. If you've never read any of his work, then start here and just keep going.
Subscribe for bonus content and insider scoops!
Twittering away...
https://t.co/1UHQhm57rN Cautiously optimistic about the premise
- Wednesday Feb 21 - 9:20pm
SPOILER ALERT! A fabulous video that you absolutely SHOULD NOT WATCH if you have not yet seen The Good Place s1 fin… https://t.co/Jqf3UnxHg3
- Tuesday Feb 20 - 4:15am
Lose yourself in a funny, sexy urban fantasy romance! The Unlikeable Demon Hunter: Crave releases Feb 20 and to cel… https://t.co/WPcUSnVRRu
- Sunday Feb 18 - 4:56pm
Bet you didn't know you could pair tap dancing and Star Wars! https://t.co/GS2qzvH7nJ
- Friday Feb 16 - 8:45pm
Better late than never! Discovered the Haim Time podcast on Beats One. So good!
- Friday Feb 16 - 6:45pm
Tellulah's Old Darlings