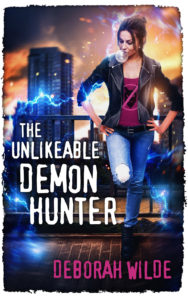 We interrupt our regular scheduled programming for a bit of shameless promotion. For those of you who don't know, I have an alter ego. I write funny, sexy, urban fantasy (that's definitely not for teens!) under the name Deborah Wilde. My first book, The Unlikeable Demon Hunter was released in April and book 2 comes out tomorrow, June 26. So, I thought I'd give you a taste.
Synopsis:
Bridesmaids meets Buffy with a dash of the seven deadly sins.
The age-old story of what happens when a foul-mouthed, romance impaired heroine with no edit button and a predilection for hot sex is faced with her worst nightmare–a purpose.
Ari Katz is intelligent, driven, and will make an excellent demon hunter once initiated into the Brotherhood of David. However, this book is about his twin Nava: a smart-ass, self-cultivated hot mess, who is thrilled her brother is stuck with all the chosen one crap.
When Nava half-drunkenly interrupts Ari's induction ceremony, she expects to be chastised. What she doesn't expect is to take her brother's place among the–until now–all-male demon hunters. Even worse? Her infuriating leader is former rock star Rohan Mitra.
Too bad Rohan's exactly what Nava's always wanted: the perfect bad boy fling with no strings attached, because he may also be the one to bring down her carefully erected emotional shields. That's as dangerous as all the evil fiends vying for the bragging rights of killing the only female ever chosen for Demon Club.
Odds of survival: eh.
Odds of having a very good time with Rohan before she bites it: much better.
Where it came from:
My main character, Nava Katz is snarky, self-defensive, and has carefully cultivated her hot mess status. This is a girl seriously in denial about the emotional baggage she's carrying around from a couple of major life upsets. Nava is me when I turn off my edit button. We share a love of tap dancing, smexy men, and craving our own happily-ever-after, which I have. Yay! (Buried under layers and layers of sarcasm.)
When I created Nava, I really wanted to play with what being an "unlikeable" female meant because I believe that even fictional women are held to a different standard than fictional men, especially around sexuality. And I also brought a lot of my issues around the sexism inherent in the Jewish religion (mine) to it. So yeah, Nava and her story are very personal to me in different ways.
Excerpt:
I veered into the backyard to snap a few stalks off Mom's aloe plant to apply to my still-throbbing chest. It was a gorgeous night, made more so by the fact that I was still alive. I raised my face up to the stars, calmed by their distant pulsing. All was peaceful and still until my shoulder blades tensed like someone was behind me.
The maybe-demon from Josh's alleyway was back, having stopped about five feet away and triggering the motion sensor. What with Josh's sister trying to kill me and all, he'd fallen off my radar.
Aloe gooped over my fingers, having clutched the frond hard enough to break it, and my terror and an intense curiosity resurfaced. There was no denying his compelling presence. Plus, he had those long lashes that were my Kryptonite. I opened my mouth to scream. Or drool.
He held a finger up to his delectable lips to keep me quiet, circling me with lazy strides, checking me out.
I'd have been offended by the blatant appraisal except under his intense scrutiny, my clit, Cuntessa de Spluge lit up with an electric zing. I found myself stroking the aloe stalks in an obscene manner. Even knowing he couldn't see my blush since I was in the shadows didn't kill my utter mortification at jerking off plant life in not-so-subtextual yearning.
He stalked toward me, his leather jacket rustling with each step.
I held up a hand to stop him, the faintest electric crackle pulsing off my skin.
He didn't stop, didn't slow. In fact, he kept up his steady approach until his hand covered mine. My magic shocked us both at his touch. I gasped and shivered as pleasure, not pain, rumbled through me.
Hand still clasped in his, he stared at me suspiciously, instead of in fear, but had I wanted, I could have broken his hold. Not a demon, then? He fingered the thin silver necklace I wore with surprising gentleness, toying with the cute floral pendant dangling off it that read "I will kick you in the balls if I have to."
"Should I be scared?" Given how he sounded like sex, sin, and salaciousness–the true definition of a triple threat–I decided that yes, he was most definitely a demon.
I met his mocking gaze, my rooted stance and beating heart placing me somewhere between morbid fascination and noping the fuck out at warp speed.
Now, for a taste of book 2: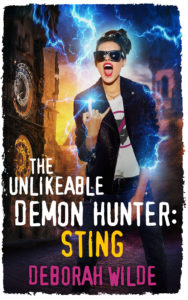 50% boobs. 50% sarcasm. 100% new breed of hunter.
After a bumpy start as the only female demon hunter in the top secret Brotherhood of David, Nava Katz heads to Prague for her first undercover mission: unmasking a demon movie star. She'd be all kinds of thrilled if it weren't for the fact that her fellow hunter-with-benefits, Rohan Mitra, has reclaimed his rock star status and assigned Nava the role of groupie.
Rejecting her "be a good girl and follow orders" directive, Nava unleashes an alter ego guaranteed to hook their celebrity target and drive Rohan crazy. No downside–until she finds herself up against Rohan's past, the Brotherhood's antiquated thinking, and her own identity issues, turning her personal life into the bomb that could blow up the entire operation.
Sparkly and deadly; it's a plan.
Book one is on sale all day tomorrow – June 26 – for 99 cents, so it's the perfect time to grab it.
Back next week with a fab new series I'm tearing through.
xo
Tellulah
Subscribe for bonus content and insider scoops!
Tellulah's Old Darlings