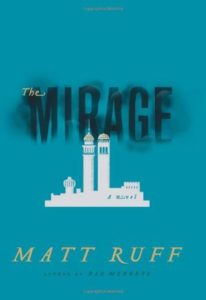 Every Matt Ruff book is a unique reading experience, so when I heard The Mirage was an alternate history version of 9/11, I had to know how he pulled it off.
Synopsis:
A mind-bending novel in which an alternate history of 9/11 and its aftermath uncovers startling truths about America and the Middle East
11/9/2001: Christian fundamentalists hijack four jetliners. They fly two into the Tigris & Euphrates World Trade Towers in Baghdad, and a third into the Arab Defense Ministry in Riyadh. The fourth plane, believed to be bound for Mecca, is brought down by its passengers.
The United Arab States declares a War on Terror. Arabian and Persian troops invade the Eastern Seaboard and establish a Green Zone in Washington, D.C. . . .
Summer, 2009: Arab Homeland Security agent Mustafa al Baghdadi interrogates a captured suicide bomber. The prisoner claims that the world they are living in is a mirage–in the real world, America is a superpower, and the Arab states are just a collection of "backward third-world countries." A search of the bomber's apartment turns up a copy of "The New York Times," dated September 12, 2001, that appears to support his claim. Other captured terrorists have been telling the same story. The president wants answers, but Mustafa soon discovers he's not the only interested party.
The gangster Saddam Hussein is conducting his own investigation. And the head of the Senate Intelligence Committee–a war hero named Osama bin Laden–will stop at nothing to hide the truth. As Mustafa and his colleagues venture deeper into the unsettling world of terrorism, politics, and espionage, they are confronted with questions without any rational answers, and the terrifying possibility that their world is not what it seems.
Acclaimed novelist Matt Ruff has created a shadow world that is eerily recognizable but, at the same time, almost unimaginable. Gripping, subversive, and unexpectedly moving, "The Mirage" probes our deepest convictions and most arresting fears.
Why I Love It:
Ruff's first novel Fool on the Hill is one of my favourite all-time books while his Bad Monkeys is an acid trip of a read. (In a good way.) But I wasn't sure how The Mirage would land. Well, he did a brilliant job. I love books featuring alternate histories or even just alternate cities. Ruff took the events and major players of 9/11 and created this mirror world version. It's still the same events and the same major players yet he cleverly and chillingly re-interprets their role and positions in this world.
Our main character Mustafa al Baghdadi is a good cop trying to do the best he can in a post 11/9 world (Yes, you read that right.) He can't figure out though, why sometimes he seems to suffer from a type of vertigo: a feeling like this world is not quite real. There are his feelings of camaraderie with total strangers and glimpses of a city with Baghdad's familiar twin towers.
This political thriller is a fascinating look into this tragedy and absolutely part of the hook is seeing where these familiar figures, whether Arab or American, end up in this version. For all the fun of the high-concept, it was really the core characters that made this novel shine for me, because ultimately, it's the story of people trying to make sense of a horrific event. Trying to understand hate and greed, struggling with oppression–be it religious, sexual, or gender-based, struggling with loss, and figuring out how to live in accordance with their faith and moral codes.
If you like The Man in the High Castle, you'll really enjoy this.
Subscribe for bonus content and insider scoops!
Tellulah's Old Darlings