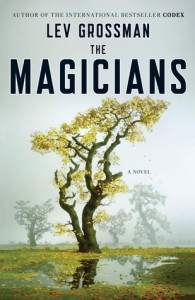 At the risk of sounding obvious, The Magicians is a book about magic. Not just literal magic, but the magic of life and love. Not to mention the dark and terrible beauty and cost of both.
Synopsis:
Like everyone else, precocious high school senior Quentin Coldwater assumes that magic isn't real, until he finds himself admitted to a very secretive and exclusive college of magic in upstate New York. There he indulges in joys of college-friendship, love, sex, and booze- and receives a rigorous education in modern sorcery. But magic doesn't bring the happiness and adventure Quentin thought it would. After graduation, he and his friends stumble upon a secret that sets them on a remarkable journey that may just fulfill Quentin's yearning. But their journey turns out to be darker and more dangerous than they'd imagined. Psychologically piercing and dazzlingly inventive, The Magicians, the prequel to the New York Times bestselling book The Magician King and the #1 bestseller The Magician's Land, is an enthralling coming-of-age tale about magic practiced in the real world-where good and evil aren't black and white, and power comes at a terrible price.
Why I Loved It:
I actually didn't. Not this first one, but each book in the trilogy gets much better. This is not a YA series. Hopefully by now, any doubters reading my blog know how richly layered and complexly beautiful young adult stories can be, however, for those of you not convinced, rest assured, the trilogy starts in college and spans 13 years. I'll be giving some details that are in the synopsis of each book but if you don't want to know anything at all, consider yourself warned.
Book one was a bit tricky for me to get into because while there are a lot of familiar fantasy tropes–alienated individual discovers he are special, magic exists, school with fellow special students, a magic world one travels to–it's not really Harry Potter. Magic is front and centre in HP, but this is more character centered, and far more literary fiction than a lot of other fantasy.
It was actually book two, where our protagonist Quentin has been kicked out of school and is on a quest through the fringes of magic society to find Fillory, that special other world of a series of beloved children's books, that I was hooked. The characters–and their dysfunctions are just so well drawn. The way that the quests and the magic itself is handled reminded me of what I'd heard about Joss Whedon. That when he ran Buffy, he used to say to his writers, "What's the most humiliating thing you experienced in high school and what's the monster to represent it?" Well, these characters are slightly older, but same premise. They're struggling to be adults with huge responsibilities (they become royalty in Fillory), and their fears and humiliations become manifest in a very real way. Their loss of innocence is profound and heartbreaking.
The final book finds us back with Quentin, cast out of Fillory and now existing on the fringes of magic society. He's caught up in a sketchy job that he hopes can bring him his heart's desire. His quest has a particular urgency and wistful hope to it, as does the quest of Eliot and Janet back in Fillory. Grossman balances all the parts of this tale wonderfully, combining humour, a beautiful turn of phrase and wonderful character development.
For anyone who loved Harry Potter, The Phantom Tollbooth, or Narnia with a childlike sense of wonder and awe but had to grow up – this is the series for you.
Subscribe for bonus content and insider scoops!
Twittering away...
Finally worked my way through my TBR pile to Keystone by Dannika Dark and I'm so glad I did! https://t.co/7mNkl5f3dP https://t.co/DQRCBD1xCf
- Sunday Feb 25 - 4:54pm
Husband just remembered that once, when asked what she wanted to be when she grew up, my kid replied, "I wanna be on stilts!" #soproud
- Friday Feb 23 - 9:25pm
https://t.co/1UHQhm57rN Cautiously optimistic about the premise
- Wednesday Feb 21 - 9:20pm
SPOILER ALERT! A fabulous video that you absolutely SHOULD NOT WATCH if you have not yet seen The Good Place s1 fin… https://t.co/Jqf3UnxHg3
- Tuesday Feb 20 - 4:15am
Lose yourself in a funny, sexy urban fantasy romance! The Unlikeable Demon Hunter: Crave releases Feb 20 and to cel… https://t.co/WPcUSnVRRu
- Sunday Feb 18 - 4:56pm
Tellulah's Old Darlings