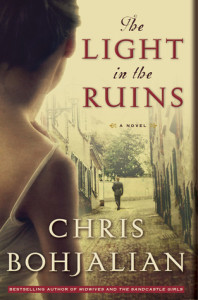 Mystery meets historical fiction in The Light in the Ruins, a captivating look at how the tragedy of war continues to affect its survivors.
Synopsis:
From the New York Times bestselling author of Midwives and The Sandcastle Girls comes a spellbinding novel of love, despair, and revenge—set in war-ravaged Tuscany.
1943: Tucked away in the idyllic hills south of Florence, the Rosatis, an Italian family of noble lineage, believe that the walls of their ancient villa will keep them safe from the war raging across Europe. Eighteen-year-old Cristina spends her days swimming in the pool, playing with her young niece and nephew, and wandering aimlessly amid the estate's gardens and olive groves. But when two soldiers, a German and an Italian, arrive at the villa asking to see an ancient Etruscan burial site, the Rosatis' bucolic tranquility is shattered. A young German lieutenant begins to court Cristina, the Nazis descend upon the estate demanding hospitality, and what was once their sanctuary becomes their prison.
1955: Serafina Bettini, an investigator with the Florence police department, has her own demons. A beautiful woman, Serafina carefully hides her scars along with her haunting memories of the war. But when she is assigned to a gruesome new case—a serial killer targeting the Rosatis, murdering the remnants of the family one-by-one in cold blood—Serafina finds herself digging into a past that involves both the victims and her own tragic history.
Set against an exquisitely rendered Italian countryside, The Light in the Ruins unveils a breathtaking story of moral paradox, human frailty, and the mysterious ways of the heart.
Why I Love It:
This was my first Chris Bohjalian book and I'm really glad I've been introduced to his writing. The Light in the Ruins is a compelling mystery that plays out in Italy between 1955 – the time of the murder, and 1943/44 – where we learn more about both the targeted family and the Police Officer assigned to their case.
He brings an incredible amount of detail to his historical fiction and I found it fascinating to read about the last days of the war and how the Nazi's actions affected the Italians who were torn in their support for Mussolini. Even though Bohjalian warns us up front about many of the tragic events to unfold, living through them was a brutal and heartbreaking experience.
Quite the gorgeous and powerful story.
Subscribe for bonus content and insider scoops!
Tellulah's Old Darlings