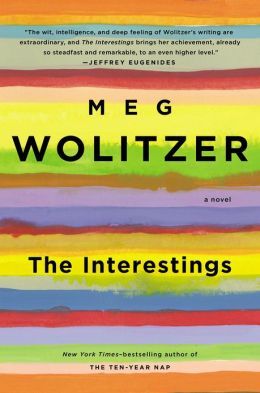 I picked up The Interestings at a time when I was sorting through many of the themes dealt with in this story, and so it deeply and immediately spoke to me.
Synopsis:
The summer that Nixon resigns, six teenagers at a summer camp for the arts become inseparable. Decades later the bond remains powerful, but so much else has changed. In The Interestings, Wolitzer follows these characters from the height of youth through middle age, as their talents, fortunes, and degrees of satisfaction diverge.
The kind of creativity that is rewarded at age fifteen is not always enough to propel someone through life at age thirty; not everyone can sustain, in adulthood, what seemed so special in adolescence. Jules Jacobson, an aspiring comic actress, eventually resigns herself to a more practical occupation and lifestyle. Her friend Jonah, a gifted musician, stops playing the guitar and becomes an engineer. But Ethan and Ash, Jules's now-married best friends, become shockingly successful—true to their initial artistic dreams, with the wealth and access that allow those dreams to keep expanding. The friendships endure and even prosper, but also underscore the differences in their fates, in what their talents have become and the shapes their lives have taken.
Wide in scope, ambitious, and populated by complex characters who come together and apart in a changing New York City, The Interestingsexplores the meaning of talent; the nature of envy; the roles of class, art, money, and power; and how all of it can shift and tilt precipitously over the course of a friendship and a life.
Why I Love It:
This story both gutted and elated me. I had a lot of trouble returning to my ordinary world once I'd finished. It's an exploration of creativity and envy and friendship and happiness–all themes and topics I've been thinking a lot about over the past couple of years.
I remember so clearly wanting to differentiate myself as interesting in some way as a teen. No, more than that, feeling that I was special and, of course, with hard work would be destined for great things. Or at least some measure of success. I watched my life, and those of my friends play out in totally unexpected ways: some found success and I cheered, others found it and I struggled to be happy for them. Some lived wildly exciting lives, others had theirs cut short far far too young.
And eventually, like many of us do, I found myself re-evaluating my definition of a successful life. Of what, exactly, really constituted happiness for me, just as Jules does. Regardless of whether you've struggled with those issues yourself, The Interestings is a gorgeous story told with wit and intelligence and insight, that should just be read. I was overwhelmed in the best way by it.
Subscribe for bonus content and insider scoops!
Twittering away...
Husband just remembered that once, when asked what she wanted to be when she grew up, my kid replied, "I wanna be on stilts!" #soproud
- Friday Feb 23 - 9:25pm
https://t.co/1UHQhm57rN Cautiously optimistic about the premise
- Wednesday Feb 21 - 9:20pm
SPOILER ALERT! A fabulous video that you absolutely SHOULD NOT WATCH if you have not yet seen The Good Place s1 fin… https://t.co/Jqf3UnxHg3
- Tuesday Feb 20 - 4:15am
Lose yourself in a funny, sexy urban fantasy romance! The Unlikeable Demon Hunter: Crave releases Feb 20 and to cel… https://t.co/WPcUSnVRRu
- Sunday Feb 18 - 4:56pm
Bet you didn't know you could pair tap dancing and Star Wars! https://t.co/GS2qzvH7nJ
- Friday Feb 16 - 8:45pm
Tellulah's Old Darlings