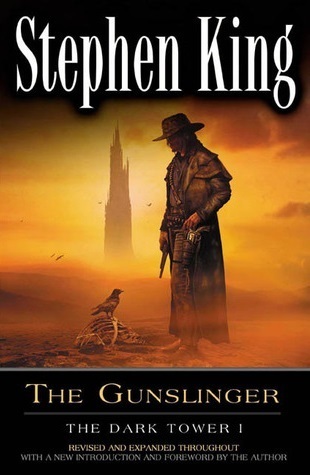 I realized that I have yet to show Stephen King any love in this series and decided it had to be rectified. At once. And what better way to do it with The Gunslinger, book one of his massive seven book series The Dark Tower.
Synopsis:
Beginning with a short story appearing in The Magazine of Fantasy and Science Fiction in 1978, the publication of Stephen King's epic work of fantasy — what he considers to be a single long novel and his magnum opus — has spanned a quarter of a century.
Set in a world of extraordinary circumstances, filled with stunning visual imagery and unforgettable characters, The Dark Tower series is King's most visionary feat of storytelling, a magical mix of science fiction, fantasy, and horror that may well be his crowning achievement.
Book I
In The Gunslinger (originally published in 1982), King introduces his most enigmatic hero, Roland Deschain of Gilead, the Last Gunslinger. He is a haunting, solitary figure at first, on a mysterious quest through a desolate world that eerily mirrors our own. Pursuing the man in black, an evil being who can bring the dead back to life, Roland is a good man who seems to leave nothing but death in his wake.
Why I Love It:
I spent twelve years of my life following this series and not in a "well that's time I'll never get back" way. Self-indulgent, books collectively the weight of an adolescent elephant – and yet I adore this series and all the crazy twists and turns that Roland's quest takes. Great as Roland's actual journey to get to the Dark Tower is, part of the fun of this series, if you're a King fan like myself, are all the cross references with characters and plot details from his other books. Not to mention the absolutely brilliant ending to the series. Seriously, it's worth it for that alone. See King ends it in a perfectly satisfying way. But then, the clever bastard writes this sort of apres essay about Roland that blew my mind.
My tips for reading this series:
1) Pace yourself
2) Brace yourself
3) Expect occasional masturbatory wankage while you wonder if King was being paid by the word.
4) Read in Kindle form because Game of Thrones is a light (and lightweight) read in comparison.
But do read it.
Subscribe for bonus content and insider scoops!
Twittering away...
Husband just remembered that once, when asked what she wanted to be when she grew up, my kid replied, "I wanna be on stilts!" #soproud
- Friday Feb 23 - 9:25pm
https://t.co/1UHQhm57rN Cautiously optimistic about the premise
- Wednesday Feb 21 - 9:20pm
SPOILER ALERT! A fabulous video that you absolutely SHOULD NOT WATCH if you have not yet seen The Good Place s1 fin… https://t.co/Jqf3UnxHg3
- Tuesday Feb 20 - 4:15am
Lose yourself in a funny, sexy urban fantasy romance! The Unlikeable Demon Hunter: Crave releases Feb 20 and to cel… https://t.co/WPcUSnVRRu
- Sunday Feb 18 - 4:56pm
Bet you didn't know you could pair tap dancing and Star Wars! https://t.co/GS2qzvH7nJ
- Friday Feb 16 - 8:45pm
Tellulah's Old Darlings