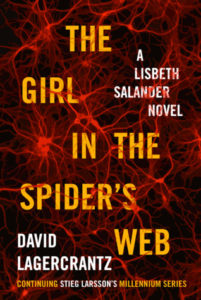 Pimping out The Girl in the Spider's Web is as much about me making sure that everyone read the original trilogy as it is recommending this book.
Synopsis:
She is the girl with the dragon tattoo—a genius hacker and uncompromising misfit. He is a crusading journalist whose championing of the truth often brings him to the brink of prosecution.
Late one night, Blomkvist receives a phone call from a source claiming to have information vital to the United States. The source has been in contact with a young female superhacker—a hacker resembling someone Blomkvist knows all too well. The implications are staggering. Blomkvist, in desperate need of a scoop for Millennium, turns to Salander for help. She, as usual, has her own agenda. The secret they are both chasing is at the center of a tangled web of spies, cybercriminals, and governments around the world, and someone is prepared to kill to protect it . . .
The duo who captivated millions of readers in The Girl with the Dragon Tattoo, The Girl Who Played with Fire, and The Girl Who Kicked the Hornet's Nest join forces again in this adrenaline-charged, uniquely of-the-moment thriller.
Why I Loved It:
I need to to start by saying that I don't generally continue with a series after the original author has passed away, because not once have I found the replacement to live up to the original. Feel free to disagree with me in the comments. That's sort of the case here. Is this book as good as Stieg Larsson's original trilogy? No. However, Lagercrantz does a commendable job writing these characters and achieving the tone and spirit of the previous 3 books. And let's face it, who doesn't want more Blomkvist and Salander?
Which brings me to my one gripe: there isn't enough Lisbeth. I love that we're returning to their pasts and that there is still so much in her history to be mined, I just wish she'd been in the books more. That's probably the biggest downfall of Lagercrantz' writing for me. Salander is not as richly realized as she was in Larsson's capable hands. That said, if you want more of these characters and this world, pick it up. It's an engrossing read. And if you haven't yet read the original trilogy, by all means, start there. Then you'll have four books to settle in with in these dreary winter months. Yay!
Subscribe for bonus content and insider scoops!
Twittering away...
Learned my 16 yr old thought the guys from One Direction were named Wade & Kyle. Even I know better than that. Good job, honey. Good job.
- Tuesday Jan 16 - 12:55am
I Believe in a Thing Called Love by @mauxbot is a total delight and I cannot pimp it out hard enough! Read this boo… https://t.co/RbHKKTkU7a
- Sunday Jan 14 - 5:58pm
These are fantastic! https://t.co/cVCSZiTWhP
- Friday Jan 12 - 5:35pm
Prince owns Gershwin's Summertime in jazz piano number. Gorgeous! https://t.co/M8fVFeOYoA
- Thursday Jan 11 - 2:35am
Yes to everything about this article! https://t.co/H6xQ6KcArV
- Monday Jan 8 - 8:35pm
Tellulah's Old Darlings