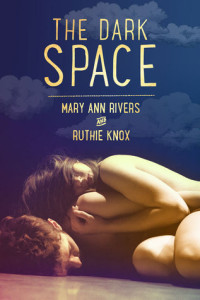 The Dark Space affected me on a very primal level. I don't know how to write a pithy introduction to today's post so I'm just going to jump right into it.
Synopsis:
College senior Winnie Frederickson has accomplished nothing in four years but summa cum laude and the power of invisibility.
A professor's kid, carelessly popular Cal Darling feels like he's been going to college forever. If there's anything left to learn, he's not going to find it in the classroom.
The theater department's "make-out class" is famously hard to get into, and what goes on between the twelve people who take it every spring is an annual topic of speculation. Winnie needs one more arts class to appear well-rounded for fellowships. Cal is just … bored.
The dark space – a class, a place, a state of mind – is ready for them both.
Why I Loved It:
I could tell you this is a story about two colleges students. And that would be true. I could also tell you it's about their experience taking a contact improv class and the relationship that develops out of that class. Those things would also be true. But they are almost irrelevant.
What is relevant? The Dark Space is a story of intense sexual eroticism and incredible beauty. It is raw. It is primal. It is magic. It is a story that sinks into your bones and teases you and wraps you in colour and feeling.
It is a book that is not just read but experienced. It is about connection and intimacy and hope and fears. It is slithery. It is gorgeous. It is about invisibility and more importantly, being seen.
I am really glad I read it and many thanks to author Ruthie Knox for generously providing me with a copy. FYI – you can have the chance to win an ebook copy of it. Just jump over to my interview with Ruthie here. You'll get her great insights on writing sexy romance with a dash of humour (which was the type of storyteller I knew her as before reading this) and be able to enter the giveaway.
Subscribe for bonus content and insider scoops!
Twittering away...
SPOILER ALERT! A fabulous video that you absolutely SHOULD NOT WATCH if you have not yet seen The Good Place s1 fin… https://t.co/Jqf3UnxHg3
- Tuesday Feb 20 - 4:15am
Lose yourself in a funny, sexy urban fantasy romance! The Unlikeable Demon Hunter: Crave releases Feb 20 and to cel… https://t.co/WPcUSnVRRu
- Sunday Feb 18 - 4:56pm
Bet you didn't know you could pair tap dancing and Star Wars! https://t.co/GS2qzvH7nJ
- Friday Feb 16 - 8:45pm
Better late than never! Discovered the Haim Time podcast on Beats One. So good!
- Friday Feb 16 - 6:45pm
SNL, why did you cut this?! https://t.co/zW8qYyVfc0
- Tuesday Feb 13 - 12:45am
Tellulah's Old Darlings