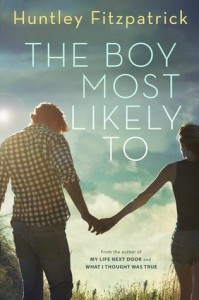 It's been a while since I had a YA rec here on Curl up. I've actually been in a bit of a slump as far as those stories were concerned. But then I got my greedy little mitts on The Boy Most Likely To and it was all systems go.
Synopsis:
Tim Mason was The Boy Most Likely To find the liquor cabinet blindfolded, need a liver transplant, and drive his car into a house
Alice Garrett was The Girl Most Likely To . . . well, not date her little brother's baggage-burdened best friend, for starters.
For Tim, it wouldn't be smart to fall for Alice. For Alice, nothing could be scarier than falling for Tim. But Tim has never been known for making the smart choice, and Alice is starting to wonder if the "smart" choice is always the right one. When these two crash into each other, they crash hard.
Then the unexpected consequences of Tim's wild days come back to shock him. He finds himself in a situation that isn't all it appears to be, that he never could have predicted . . . but maybe should have.
And Alice is caught in the middle.
Told in Tim's and Alice's distinctive, disarming, entirely compelling voices, this novel is for readers of The Spectacular Now, Nick and Norah's Infinite Playlist, and Paper Towns.
Why I Love It:
I fell hard for Fitzpatrick's debut My Life Next Door. It had everything to recommend it. So when I learned that this book had come out featuring Tim, the alcoholic best friend from the first book, I was in. Once again, Fitzpatrick gives the reader all the feels for the young couple. Given the struggles and issues her characters face, her stories could so easy veer into after school special territory but under her brilliance, become a heartfelt journey navigating the minefields of family, coming of age, bad luck, and bad decisions.
Not only Tim and Alice, but all the characters are incredibly layered and nuanced with none of the character dynamics going the way I expect. Be warned – there is heartbreak. But there is also so much hope. In the end, after all the struggles, Fitzpatrick presents us with the joys of life, sometimes small, sometimes profound, sometimes unexpected but always reminding her characters–and us–where to find meaning.
Subscribe for bonus content and insider scoops!
Twittering away...
https://t.co/1UHQhm57rN Cautiously optimistic about the premise
- Wednesday Feb 21 - 9:20pm
SPOILER ALERT! A fabulous video that you absolutely SHOULD NOT WATCH if you have not yet seen The Good Place s1 fin… https://t.co/Jqf3UnxHg3
- Tuesday Feb 20 - 4:15am
Lose yourself in a funny, sexy urban fantasy romance! The Unlikeable Demon Hunter: Crave releases Feb 20 and to cel… https://t.co/WPcUSnVRRu
- Sunday Feb 18 - 4:56pm
Bet you didn't know you could pair tap dancing and Star Wars! https://t.co/GS2qzvH7nJ
- Friday Feb 16 - 8:45pm
Better late than never! Discovered the Haim Time podcast on Beats One. So good!
- Friday Feb 16 - 6:45pm
Tellulah's Old Darlings