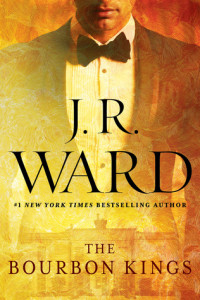 I looooved Ward's The Black Dagger Brotherhood series – until I really didn't. So I went into The Bourbon Kings with a mix of high expectation and massive trepidation. Then, because it took a while before I actually got hold of it, I promptly forgot what the book was about and had to do a quick "Oh yeah, not paranormal" once I dove it. After that little head shift, it was smooth sailing all the way.
Synopsis:
For generations, the Bradford family has worn the mantle of kings of the bourbon capital of the world. Their sustained wealth has afforded them prestige and privilege—as well as a hard-won division of class on their sprawling estate, Easterly. Upstairs, a dynasty that by all appearances plays by the rules of good fortune and good taste. Downstairs, the staff who work tirelessly to maintain the impeccable Bradford facade. And never the twain shall meet.
For Lizzie King, Easterly's head gardener, crossing that divide nearly ruined her life. Falling in love with Tulane, the prodigal son of the bourbon dynasty, was nothing that she intended or wanted—and their bitter breakup only served to prove her instincts were right. Now, after two years of staying away, Tulane is finally coming home again, and he is bringing the past with him. No one will be left unmarked: not Tulane's beautiful and ruthless wife; not his older brother, whose bitterness and bad blood know no bounds; and especially not the ironfisted Bradford patriarch, a man with few morals, fewer scruples, and many, many terrible secrets.
As family tensions—professional and intimately private—ignite, Easterly and all its inhabitants are thrown into the grips of an irrevocable transformation, and only the cunning will survive.
Why I Loved It:
Ward does a phenomenal job of world building. The Bradford estate was so alive for me. This story harkens back to those epic 80's dysfunctional family dynasty stories and I had blast following along. Not that it's dated or stodgy because Ward stamps her unique edge and heat on it.
And while this is a tapestry with a lot of characters to keep track of, there is a definite heart with the love story of Lane, the younger dynastic son, and Lizzie, the head horticulturalist who didn't get her Sabrina ending two years ago when their relationship blew up. Obviously they are not yet over the other. Throw in all kinds of rich people behaving badly and you have pure delicious fun.
I'm not surprised to hear it's already been optioned as a series because both the book and small screen version could very easily become those most awesome of guilty pleasures.
Subscribe for bonus content and insider scoops!
Twittering away...
https://t.co/1UHQhm57rN Cautiously optimistic about the premise
- Wednesday Feb 21 - 9:20pm
SPOILER ALERT! A fabulous video that you absolutely SHOULD NOT WATCH if you have not yet seen The Good Place s1 fin… https://t.co/Jqf3UnxHg3
- Tuesday Feb 20 - 4:15am
Lose yourself in a funny, sexy urban fantasy romance! The Unlikeable Demon Hunter: Crave releases Feb 20 and to cel… https://t.co/WPcUSnVRRu
- Sunday Feb 18 - 4:56pm
Bet you didn't know you could pair tap dancing and Star Wars! https://t.co/GS2qzvH7nJ
- Friday Feb 16 - 8:45pm
Better late than never! Discovered the Haim Time podcast on Beats One. So good!
- Friday Feb 16 - 6:45pm
Tellulah's Old Darlings