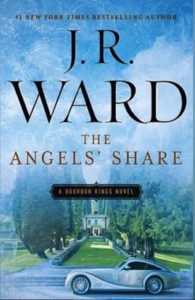 There is a special place in my heart for the sprawling family dynasty story, and with The Angels' Share, Ward continues her masterful exploration of the bourbon-making Bradford clan.
Synopsis:
#1 New York Times bestselling author J. R. Ward delivers the second novel in her Bourbon Kings series—a sweeping saga of a Southern dynasty struggling to maintain a façade of privilege and prosperity, while secrets and indiscretions threaten its very foundation…
In Charlemont, Kentucky, the Bradford family is the crème de la crème of high society—just like their exclusive brand of bourbon. And their complicated lives and vast estate are run by a discrete staff who inevitably become embroiled in their affairs. This is especially true now, when the apparent suicide of the family patriarch is starting to look more and more like murder…
No one is above suspicion—especially the eldest Bradford son, Edward. The bad blood between him and his father is known far and wide, and he is aware that he could be named a suspect. As the investigation into the death intensifies, he keeps himself busy at the bottom of a bottle—as well as with his former horse trainer's daughter. Meanwhile, the family's financial future lies in the perfectly manicured hands of a business rival, a woman who wants Edward all to herself.
Everything has consequences; everybody has secrets. And few can be trusted. Then, at the very brink of the family's demise, someone thought lost to them forever returns to the fold. Maxwell Bradford has come home. But is he a savior…or the worst of all the sinners?
Why I Love It:
If you missed my review of book one, find it here. You do need to read these books in order. We dive into The Angels' Share with our main couple, Lane and Lizzie in a good place and the dysfunctional relationship spotlight swings toward hot mess Gin and the asshole she's marrying rather than the love of her life she should be with, not to mention continues the heartbreak of Edward and Sutton. Above all though, it's the patriarch's death and subsequent investigation that takes centre stage. The double dealings and secrets are delicious.
What I love most is how Ward makes me care so much about this family. Everyone is so broken and yet there is so much worth being redeemed in each of them. It's a joy to go on this journey with them and discover how deep into darkness they must each go before finding their way back into the light. I imagine there is still a darker night to come in book three, and I, for one, can't wait for it.
Subscribe for bonus content and insider scoops!
Tellulah's Old Darlings