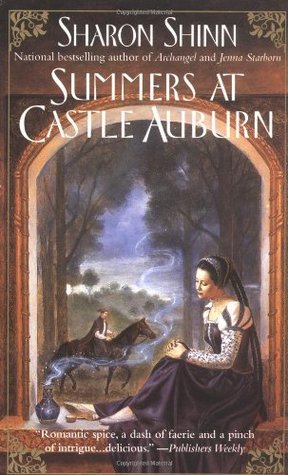 Get past the cheesy old school cover on Summers at Castle Auburn and you'll be rewarded with a lovely coming of age story.
Synopsis:
As a child, Coriel Halsing spent many glorious summers at Castle Auburn with her half-sister-and fell in love with a handsome prince who could never be hers. But now that she is a young woman, she begins to see the dark side of this magical place…
Why I Loved It:
This story is told in an almost understated way and I'm surprised by how much I enjoyed it. First off, let's start with the world building. While this isn't a world of dragons or magic (although there are "magical" creatures), the world building is deftly accomplished. Corie's two worlds–the court of political intrigue where she spends her summers is effectively contrasted with the rest of her year that she spends learning herb lore by her grandmother's side. The worlds and characters are clearly divided into these two classes with Corie increasingly wondering where she fits in.
Despite the court politics, this isn't Game of Thrones. There are no Machiavellian power plays. In fact, the charm of this book stems entirely from the important relationships in Corie's life, most notably her half-sister and the spoiled prince with whom she is besotted. The first section of the book is written when Corie is 14. Still very young emotionally, it captures the giddy voice of adolescence with a lot of sweetness. Shinn then jumps us to Corie at age seventeen, older, more mature, her eyes literally opening up to the world and true natures of the people around her as well, leaving her to struggle with her own moral code.
The best adjective I can think of to describe this book is gentle, and yet I mean that in the best possible way. I was thoroughly enchanted and delighted by this story.
Subscribe for bonus content and insider scoops!
Twittering away...
Husband just remembered that once, when asked what she wanted to be when she grew up, my kid replied, "I wanna be on stilts!" #soproud
- Friday Feb 23 - 9:25pm
https://t.co/1UHQhm57rN Cautiously optimistic about the premise
- Wednesday Feb 21 - 9:20pm
SPOILER ALERT! A fabulous video that you absolutely SHOULD NOT WATCH if you have not yet seen The Good Place s1 fin… https://t.co/Jqf3UnxHg3
- Tuesday Feb 20 - 4:15am
Lose yourself in a funny, sexy urban fantasy romance! The Unlikeable Demon Hunter: Crave releases Feb 20 and to cel… https://t.co/WPcUSnVRRu
- Sunday Feb 18 - 4:56pm
Bet you didn't know you could pair tap dancing and Star Wars! https://t.co/GS2qzvH7nJ
- Friday Feb 16 - 8:45pm
Tellulah's Old Darlings