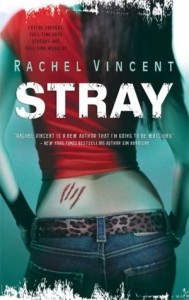 Something about the cover/description of Stray had me pick it up and then immediately put it back at the library numerous times over the years. But I finally decided to give it a shot when some friends in one of my Goodreads groups raved about this series.
Synopsis:
There are only eight breeding female werecats left…
And I'm one of them.
I look like an all-American grad student. But I am a werecat, a shape-shifter, and I live in two worlds.
Despite reservations from my family and my Pride, I escaped the pressure to continue my species and carved out a normal life for myself. Until the night a Stray attacked.
I'd been warned about Strays — werecats without a Pride, constantly on the lookout for someone like me: attractive, female, and fertile. I fought him off, but then learned two of my fellow tabbies had disappeared.
This brush with danger was all my Pride needed to summon me back… for my own protection. Yeah, right. But I'm no meek kitty. I'll take on whatever — and whoever — I have to in order to find my friends. Watch out, Strays — 'cause I got claws, and I'm not afraid to use them…
Why I Love It:
I originally read the Shifters series back in 2013 but I did a re-read this past weekend, and yup. I love it just as much. I've got a soft spot for shapeshifter stories. That said, a lot of them bore me to pieces because there's not much there beyond sex with a furry. Or it's the same dark, angsty issues. A girl gets tired of the same old, you know?
This series, however, is actually an excellent six-book, coming-of-age story. Yes, the romance is there but in a strong subplot way, not the main point. That's saved for Faythe balancing extreme cultural expectation with her justifiable desire to be a modern woman with all that entails. The series takes on gender politics on a number of levels. What's nice as well, is that each book (thematically named) has a self-contained A-plot with a ton of action. Though you do want to read them in order to keep building upon Faythe's journey of empowerment.
It hits a wonderful balance between romancy stuff, kick-ass action, paranormal, and one young woman's journey of coming into her own. Yeah, the covers are cheesy but if you can point out examples of GOOD urban fantasy covers, I'd be interested to know.
Enjoy!
xo
Tellulah
Subscribe for bonus content and insider scoops!
Twittering away...
Finally worked my way through my TBR pile to Keystone by Dannika Dark and I'm so glad I did! https://t.co/7mNkl5f3dP https://t.co/DQRCBD1xCf
- Sunday Feb 25 - 4:54pm
Husband just remembered that once, when asked what she wanted to be when she grew up, my kid replied, "I wanna be on stilts!" #soproud
- Friday Feb 23 - 9:25pm
https://t.co/1UHQhm57rN Cautiously optimistic about the premise
- Wednesday Feb 21 - 9:20pm
SPOILER ALERT! A fabulous video that you absolutely SHOULD NOT WATCH if you have not yet seen The Good Place s1 fin… https://t.co/Jqf3UnxHg3
- Tuesday Feb 20 - 4:15am
Lose yourself in a funny, sexy urban fantasy romance! The Unlikeable Demon Hunter: Crave releases Feb 20 and to cel… https://t.co/WPcUSnVRRu
- Sunday Feb 18 - 4:56pm
Tellulah's Old Darlings