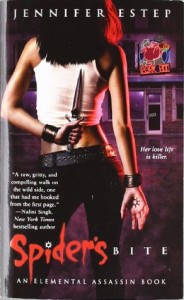 Sometimes it's hard to make the jump with an author when you love her for one type of storytelling. I'm a huge fan of Estep's YA Mythos Academy series, which is much lighter than this urban fantasy. But four books in to this series and I'm itching to get my hands on book five.
Synopsis:
My name is Gin, and I kill people.
They call me the Spider. I'm the most feared assassin in the South — when I'm not busy at the Pork Pit cooking up the best barbecue in Ashland. As a Stone elemental, I can hear everything from the whispers of the gravel beneath my feet to the vibrations of the soaring Appalachian Mountains above me. My Ice magic also comes in handy for making the occasional knife. But I don't use my powers on the job unless I absolutely have to. Call it professional pride.
Now that a ruthless Air elemental has double-crossed me and killed my handler, I'm out for revenge. And I'll exterminate anyone who gets in my way — good or bad. I may look hot, but I'm still one of the bad guys. Which is why I'm in trouble, since irresistibly rugged Detective Donovan Caine has agreed to help me. The last thing this coldhearted killer needs when I'm battling a magic more powerful than my own is a sexy distraction… especially when Donovan wants me dead just as much as the enemy.
Why I Love It:
Not sure what it says about my headspace these days, but I'm really enjoying having an assassin for a main character. Especially Gin, who has no real compunction or moral quandaries about her kills. To be fair, her character is a spin on the "hooker with a heart of gold" since she's an assassin with a heart of gold – fiercely loyal to those close to her and when we meet her, starting down a kind of Robin Hood path. Though she's as surprised by it as others. Did I mention how much I like the assassin stuff?
The secondary characters are fun and the love interest goes in an interesting direction. I foresee love triangles coming down the pipe which I hate but what are you gonna do? Funnily enough, while I get a little tired of the recapping in the subsequent books, the first one, Spider's Bite, avoids book one set up info dump problems. Estep weaves (see what I did there?) her mythology with a deft hand, resulting in a compelling world.
Subscribe for bonus content and insider scoops!
Twittering away...
https://t.co/1UHQhm57rN Cautiously optimistic about the premise
- Wednesday Feb 21 - 9:20pm
SPOILER ALERT! A fabulous video that you absolutely SHOULD NOT WATCH if you have not yet seen The Good Place s1 fin… https://t.co/Jqf3UnxHg3
- Tuesday Feb 20 - 4:15am
Lose yourself in a funny, sexy urban fantasy romance! The Unlikeable Demon Hunter: Crave releases Feb 20 and to cel… https://t.co/WPcUSnVRRu
- Sunday Feb 18 - 4:56pm
Bet you didn't know you could pair tap dancing and Star Wars! https://t.co/GS2qzvH7nJ
- Friday Feb 16 - 8:45pm
Better late than never! Discovered the Haim Time podcast on Beats One. So good!
- Friday Feb 16 - 6:45pm
Tellulah's Old Darlings