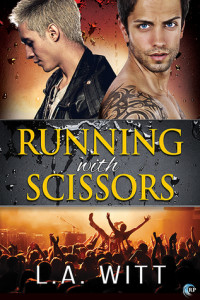 Pick up Running with Scissors thinking you're getting Augusten Burroughs' book about the kid going to live with his psychiatrist and you're in for a hell of a shock. Nope, this is sizzling hot m/m rockstars, baby!
Synopsis:
Eighteen months ago, drummer Jude Colburn made the biggest mistake of his life when he walked away from his band just as they were on the brink of success. Now, he's got a second chance. The band's bassist just quit, and Jude plays bass almost as well as he plays drums. The other band members aren't thrilled, but they are desperate.
Running with Scissors needs him, but there's one condition: no hooking up with bandmates. That's what ruined things eighteen months ago, after all. Jude's on board, but no one warned him about the drummer who replaced him. A.J. Palmer is shy and unassuming . . . until he hits the stage. He gets Jude's attention from the first beat, and suddenly that "no hookups" rule isn't so easy to follow.
Keeping secrets on a tour bus isn't easy either, and it's only a matter of time before the band catches on. When everything hits the fan, Jude has to choose: a second chance at the career he's always regretted leaving, or a shot at the man of his dreams?
Why I Love It:
I like the rock star trope but for some reason I never seem to enjoy it unless it's an m/m. Hmmm, why ever could that be? Twice the sexy alpha male hotness, perchance?
Aside from that highly important characteristic, Witt hits every beat needed in a good romance. The incomplete hero whose flaw (in this case impulsive self-sabotaging decisions that blow up in his face) finds completion in the calm, steady peacekeeper who needs to learn to speak up for himself. Both Jude and AJ are enormously talented and passionate musicians which really makes the reader root for them to achieve all their dreams. Throw in enormous stakes of fame, fortune, creative fulfillment, and old friendships in desperate need of mending, all at odds with a secret attraction, and you've got a great read.
Subscribe for bonus content and insider scoops!
Twittering away...
Finally worked my way through my TBR pile to Keystone by Dannika Dark and I'm so glad I did! https://t.co/7mNkl5f3dP https://t.co/DQRCBD1xCf
- Sunday Feb 25 - 4:54pm
Husband just remembered that once, when asked what she wanted to be when she grew up, my kid replied, "I wanna be on stilts!" #soproud
- Friday Feb 23 - 9:25pm
https://t.co/1UHQhm57rN Cautiously optimistic about the premise
- Wednesday Feb 21 - 9:20pm
SPOILER ALERT! A fabulous video that you absolutely SHOULD NOT WATCH if you have not yet seen The Good Place s1 fin… https://t.co/Jqf3UnxHg3
- Tuesday Feb 20 - 4:15am
Lose yourself in a funny, sexy urban fantasy romance! The Unlikeable Demon Hunter: Crave releases Feb 20 and to cel… https://t.co/WPcUSnVRRu
- Sunday Feb 18 - 4:56pm
Tellulah's Old Darlings