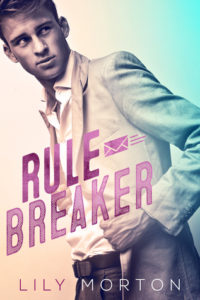 Last week, I introduced you to a new beloved author, Lily Morton with Promise Me. Today, I've got one of her m/m romances (which you know I love). Presenting Rule Breaker.
Synopsis:
Is it really wrong to want to murder your boss?
Dylan has worked for Gabe for two years. Two long years of sarcastic comments. Two long years of insults, and having to redo the coffee pot four times in the mornings to meet his exacting standards.
Not surprisingly he has devoted a lot of time to increasingly inventive ways to murder Gabe. From stabbing him with a cake fork, to garrotting him with his expensive tie, Dylan has thought of everything.
However, a chance encounter opens his eyes to the attraction that has always lain between them, concealed by the layers of antipathy. There are only two problems – Gabe is still a bastard, and he makes wedding planners look like hardened pessimists.
But what happens when Dylan starts to see the real Gabe? What happens when he starts to fall in love with the warm, wary man that he sees glimpses of as the days pass?
Because Gabe is still the same commitment shy, cold man that he's always been, or is he? Has Dylan had the same effect on Gabe, and has his solid gold rule of no commitment finally been broken? With his heart taken Dylan desperately needs to know, but will he get hurt trying to find the answers?
From the author of 'The Summer of Us' comes another scorchingly hot romantic comedy, showing what happens between two men when rules get broken.
Why I Love It:
The "enemies to lovers" trope is only slightly less delicious to me than the "best friends to lovers" one. There's so much delightful antagonism and so much infuriation that turns to explosive sexual content.
*fans self*
Dylan is the mouthy best, but for all his snark, he is a big softie with a heart of gold. It was such fun to watch him alternate between wanting to murder Gabe and wanting to screw him senseless. He's just a good guy who deserves his HEA.
Trouble his, the object of his fantasies is a cold-hearted player – or is he? The more I read about Gabe, the more I adored him. He is a broken man, but with every glimpse, I rooted for him to get over his issues and beyond his past hurts, and embrace the love waiting for him. That sounds so sappy, I know, but seriously, I just wanted these two together so badly.
I've read one other Lily Morton book, and I gotta say, so far, you can't go wrong with any of them. Can't wait to catch up on the rest!
Subscribe for bonus content and insider scoops!
Twittering away...
Learned my 16 yr old thought the guys from One Direction were named Wade & Kyle. Even I know better than that. Good job, honey. Good job.
- Tuesday Jan 16 - 12:55am
I Believe in a Thing Called Love by @mauxbot is a total delight and I cannot pimp it out hard enough! Read this boo… https://t.co/RbHKKTkU7a
- Sunday Jan 14 - 5:58pm
These are fantastic! https://t.co/cVCSZiTWhP
- Friday Jan 12 - 5:35pm
Prince owns Gershwin's Summertime in jazz piano number. Gorgeous! https://t.co/M8fVFeOYoA
- Thursday Jan 11 - 2:35am
Yes to everything about this article! https://t.co/H6xQ6KcArV
- Monday Jan 8 - 8:35pm
Tellulah's Old Darlings