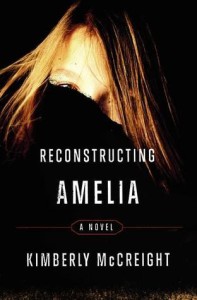 4 days ago: Never heard of this book.
3 days ago: Saw it all over my social media and in a pointed "read this" email from a friend.
2 days ago: Read it and had my heart broken.
Synopsis:
A stunning debut novel in which a single mother reconstructs her teenaged daughter's life, sifting through her emails, texts, and social media to piece together the shocking truth about the last days of her life.
Litigation lawyer and harried single mother Kate Baron is stunned when her daughter's exclusive private school in Park Slope, Brooklyn, calls with disturbing news: her intelligent, high-achieving fifteen-year-old daughter, Amelia, has been caught cheating.
Kate can't believe that Amelia, an ambitious, levelheaded girl who's never been in trouble would do something like that. But by the time she arrives at Grace Hall, Kate's faced with far more devastating news. Amelia is dead.
Seemingly unable to cope with what she'd done, a despondent Amelia has jumped from the school's roof in an act of "spontaneous" suicide. At least that's the story Grace Hall and the police tell Kate. And overwhelmed as she is by her own guilt and shattered by grief, it is the story that Kate believes until she gets the anonymous text:
She didn't jump.
Sifting through Amelia's emails, text messages, social media postings, and cell phone logs, Kate is determined to learn the heartbreaking truth about why Amelia was on Grace Hall's roof that day-and why she died.
Told in alternating voices, Reconstructing Amelia is a story of secrets and lies, of love and betrayal, of trusted friends and vicious bullies. It's about how well a parent ever really knows a child and how far one mother will go to vindicate the memory of a daughter whose life she could not save.
Why I Loved It:
Reconstructing Amelia affected me so profoundly on so many levels. See, there are 2 stories going on here – that of Kate, the mom trying to understand what led to her daughter's death, and that of Amelia, her daughter in the time leading up to her final days.
I generally avoid books involving dead children because I find it so hard to go on that journey even fictitiously. But I had nothing to read and this was everywhere and so I picked it up. Don't get me wrong, it was agony sitting there with Kate as she unravelled the truth. You know her daughter is dead. There is absolutely no way this will have a happy ending. Though things played out in a more honest and more brutal and more devastating fashion than I could ever have guessed.
Girls can be horrible. Really really cruel. I experienced bullying – not quite on this level but enough that certain years were horrific for me. And I've got a kid about to start high school, so my heart was caught in my throat as I was reading most of the book. There is no denying how real the events felt, and how terrifying because there are certain "truths" we tell our kids about combatting bullying and who will provide safe haven and who is there to help. This book challenges all those assumptions. It's bleak and it's believable and ultimately, dark as it is, Reconstructing Amelia is a story that needs to be read.
Subscribe for bonus content and insider scoops!
Tellulah's Old Darlings